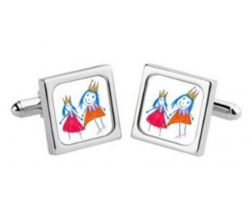 classic and unusual personalised Fathers Day gifts, carefully selected by a unique panel of lifestyle experts and trendsetters
London (PRWEB) June 10, 2011
The Handpicked Collection is the perfect place to find that special gift for much-loved Dads this Father's Day. With a number of wonderful new items added to the collection, the Handpicked Collection are offering their largest collection yet of highly desirable gifts that will show that love and thought has gone into finding this year's Father's Day Gift.
A standout gift that Dads are sure to appreciate and use is the new Daddy Rules Mug (7.95). A simple gift but one that says it all! For the Dad who loves time spent in the garden, whether that's in the nitty gritty gardening duties itself, or being masterchef at the BBQ, The Handpicked Collection has the ideal gift. Pocket Folding Secateurs (£11.95) are perfect for emergency pruning and the Asado Disposable BBQ Stand (£9.95) is just the answer for more flexible outdoor cooking.
If Dad fancies himself a dab hand in the kitchen, the timeless Personalised Olivewood Bread & Chopping Board (£54.95) will make a real impact. This is a brand new item from The Handpicked Collection and is a truly special gift. Decide on the personalized name or message and Handpicked's expert carvers will get straight to work creating it in a stunning single block of olive wood.
Personalised gifts like this one really are the answer for showing Dads how loved they are. The Handpicked Collection has a range of classic and unusual personalised Fathers Day gifts, carefully selected by their unique panel of lifestyle experts and trendsetters.
Remember his smiling face when Daddy's little girl came home from school with her first painting? It didn't matter that the legs were green and the ears were lopsided. Now the masterpiece can be immortalized, onto a keyring or pair of cufflinks with The Mini Picasso Personalised Cufflinks (£39.95) & Keyring (£24.95).
For a Dad with classic taste, a beautifully framed Silhouette of his children's profiles makes the perfect Father's Day gift (from £56.95). Hung on his office wall, the endless paperwork will feel less of a chore with his treasured children looking on, even after they have flown the nest.
Nothing is more personal than a photo of a shared memory, and The Handpicked Collection have a whole host of father's day gift ideas to perfectly frame the moment. Simply slip the photo into the Photo Paperweight (£7.95), Silver Photo Frame Mousemat (£4.95) or Glass Photocube (£9.95) for a present he'll cherish forever.
For a grown-up father's day gift, a personalised bottle of his favourite tipple would go down a treat. Choose from Rioja (£19.95), Champagne (£39.95), Ale (£12.95) or Whisky (£37.95). A personalized message or name can be printed on the label so he'll be reminded of his loving family when he cracks the bottle open.
To view the entire collection of Father's Day Gifts from The Handpicked Collection, and our extensive range of gifts for all occasions, please visit http://www.handpickedcollection.com.
# # #