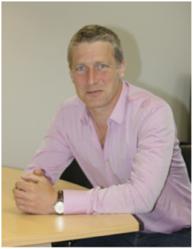 I believe that this sector represents a significant opportunity for growth due to the fact that it is currently one of the most under represented online areas
London, England (PRWEB UK) 3 June 2011
Amara, the UK's leading luxury online home accessories e-tailer, is pleased to introduce Andrew Curran as an investor and Director with immediate effect. Andrew is joining Amara to offer strategic advice and provide proactive input into the day-to-day operations.
Andrew's involvement both financially and as a main board director will aid Amara's strategic development throughout 2011 and stimulate the company's next stage of growth. Since departing my-wardrobe at the end of 2010, Andrew has retained a significant investment in the fashion retailer, but wishes to pursue new ventures in the luxury online home market.
Andrew comments: "I believe that this sector represents a significant opportunity for growth due to the fact that it is currently one of the most under represented online areas. I identified Amara as a business that has done a fantastic job to date building an impressive website with a consistently increasing and loyal customer base. I am looking forward to working closely with the existing management and co-founders, Andrew and Samantha Hood, to make Amara a household name."
Co-founder, Andrew Hood, comments: "We are delighted that Andrew is working with us and are confident he will help develop Amara to be the largest online provider of luxury home brands in the UK. The Amara management team believes that with Andrew on board we can explore the synergies with fashion brands within the home accessories sector; especially in light of the fact that Amara is already number one for Missoni Home in Europe. It therefore seemed logical to bring Andrew on board to develop relationships with existing fashion houses as they launch their own home brands."
Amara will seek a further round of funding in the latter half of 2011 to strengthen and consolidate their position as the UK's leading pure-play luxury home accessories e-tailer. With ten new brands on the site since the start of the year and commitment to stocking in excess of fifty new brands by this time next year, they are well on track. With Samantha's insightful buying skills the management are confident that the current growth rate of in excess of 100% will continue throughout 2012.
###