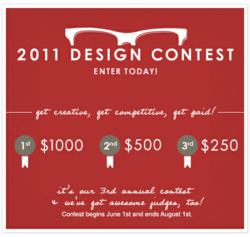 "We are lucky to discover both new talent and sought after designers that we might not ordinarily have found."
Tampa, FL (PRWEB) June 04, 2011
InvitationConsultants.com, a full-service online invitation and stationery site, is opening up their third annual design contest for entries. The company is seeking designers – both experienced and novice – to enter original works for a chance to win cash prizes up to $1,000, and have the piece featured and sold on the company website.
This is the third year for the design contest, with the first two both receiving more than 100 entries. More than 20 designs from past contests are now sold on the site – and more than 200 items that InvitationConsultants.com sells are from their community of Guest Designers.
"We are thrilled to host our design contest again this year. We are lucky to discover both new talent and sought after designers that we might not ordinarily have found," said Allison De Meulder, CEO of Invitation Consultants.
New to the contest this year is the online gallery that will allow all Invitation Consultants customers and design fans to view and comment on all of the contest submissions, as well as "like" them via their facebook.com account.
"This year we kicked it up a notch and paired our technology abilities with design to create an easy-to-use platform for designers," says De Meulder. "We are also honored to have such an inspiring and distinguished panel of judges."
Alongside Invitation Consultants, a design-savvy judging panel will select the winning designs. Some of the 2010 judges are returning to help choose the winners, including: Maria McBride, Wedding Style Director at Brides magazine and Heather Peel and Emily Hamilton, the founders of Invitation Buzz. New to the panel this year are Sarah Schwartz, founding editor of the award-winning Stationery Trends magazine; Jamie Derringer, founder and editor of Design Milk, R. Scott Hamilton, co-founder of TheFashionList and instructor at Parsons The New School for Design and Dina Manzo, former star of the Real Housewives of New Jersey, founder of Project Ladybug, owner of the event design firm Designer Affair and HGTV host of "Dina's Party."
The contest begins on Wednesday, June 1 and will end on Monday, August 1, 2011. The winners will be announced on Tuesday, August 23 via the website. The winners will receive cash prizes, including $1,000 for first prize, $500 for 2nd prize and $250 for 3rd prize, and their designs will be available for purchase on the Invitation Consultants website.
Winners will receive a commission of 5% on each sale of their invitations. More information about the contest, rules and regulations, and how to submit designs, can be found at InvitationConsultants.com.
About Invitation Consultants, Inc.
Since 1999, Invitation Consultants' focus has been fabulous design, impeccable quality, competitive pricing and consumer experience. Invitation Consultants assist customers in selecting, ordering and personalizing invitations, special occasion announcements, stationery and gifts for every style. The website features over 9,000 products from their in-house brand, crowd sourcing and top manufacturers. Their passion for paper, commitment to community and love of color have made them a leader in the invitation industry.
# # #