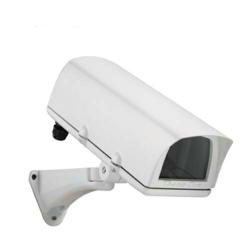 Surveillance cameras have helped to curb crime and increase personal safety in public venues, and since they've become far more affordable and widely available, they're becoming a popular choice for at-home security
Fort Lauderdale, FL (PRWEB) June 07, 2011
Security cameras have become a common sight in public places like shopping malls, banks, schools, hospitals, airports, casinos and road intersections, but did you know that they're also becoming an increasingly important part of residential security systems?
"Surveillance cameras have helped to curb crime and increase personal safety in public venues, and since they've become far more affordable and widely available, they're becoming a popular choice for at-home security," notes Christina Hansen, a Product Specialist with CableOrganizer.com. "More than ever, homeowners and families are using video technology to protect themselves and their property from theft, injury and other dangers."
CableOrganizer.com shares 8 smart ideas on how to use security cameras as part of your home safety plan:
Monitor the perimeter of your property.
A great way to deter trespassers is to mount outdoor security cameras (http://cableorganizer.com/d-link/3410-fixed-network-camera/) to the home's exterior, and keep them aimed at the perimeter of the property. Multiple cameras can give a nearly 360° view of the property line, and are an excellent way to keep an eye out for unwanted visitors in real time, or provide playback surveillance footage in the event of a robbery.
See who's at the front door.
If a peephole just isn't enough, a small surveillance camera can let you answer a knock at the door with confidence. Save on data storage by using a motion-activated camera that only films when movement is detected on the front step, and keep a small CCTV monitor handy in the kitchen or your home office to easily see who's there.
Check up on childcare providers.
It can be tough to rest easy when children are left at home with outside babysitters and nannies. One way to find peace of mind, and get a firsthand look at how kids are treated when parents are not there, is to invest in a "nanny cam," a small concealed camera that's disguised to look like an ordinary household object. These hidden cameras are ideal for capturing child/caretaker interactions, and letting parents view in real time or play back later.
Keep an eye on your garage.
Cars, trucks, motorcycles, ATVs and high-end power tools can be extremely tempting to potential thieves, so protect them with more than a rolling garage door or lock and key. Installing a visible but out of reach remote-access security camera (http://cableorganizer.com/security-surveillance/) lets unauthorized visitors know that they're being watched, and enables the homeowner to check up on valuables even while on the road.
Monitor points of entry to prevent theft.
Bad guys don't always use the front door, so be sure not to ignore other potential entry points like windows, French doors and basement doors. While it isn't necessary to mount a surveillance camera near every single access point, it's not a bad idea to have an extra pair of eyes watching windows and doors that aren't visible to neighbors, can't be seen from the street, or are hidden by trees, tall hedges, or other visual obstructions.
Make your own video baby monitor.
Parents who need to work or relax in another room and don't want to get up to investigate every time a sleeping baby makes a peep can set up a video baby monitor that transmits both sounds and images. Install a CCTV video camera (http://cableorganizer.com/d-link/wired-network-camera/) next to or above the baby's crib, and have it broadcast to a monitor in another room(s) in the home. That way, when a baby-related noise is heard, you can just glance at the monitor to decide whether or not you need to check in person.
Protect your home business.
For the person running a home business, chances are there are work equipment, money and inventory on premises. A security camera (http://cableorganizer.com/d-link/fixed-dome-network-camera/) can not only help prevent the theft of work-related valuables, but can also multitask by monitoring employees, clients and vendors who come in and out of the home throughout the business day.
Watch the pool and play areas from indoors.
They're more independent than very young children, but older kids still need outdoor supervision, especially if there's a swimming pool or large playground equipment nearby. Even if an adult needs to step indoors for a few minutes, he can still keep a protective eye on frolicking children by installing closed-circuit cameras near the swimming pool or outdoor play area to watch in case of any falls, fall-ins, or other playtime mishaps.
CableOrganizer.com offers a wide variety of security cameras and DVRs for home and business, all of which can be found at (http://cableorganizer.com/security-surveillance/).
About CableOrganizer.com
Founded in February 2002 and headquartered in Fort Lauderdale, FL, CableOrganizer.com is a premier cable and wire management-related product vendor. The company provides companies, organizations and individuals around the globe with 24/7/365 access to an extensive array of high-quality products and information resources through its convenient online storefront. In addition to http://CableOrganizer.com, the company also owns and operates http://CableOrganizer.fr, which is operated out of Rennes, France. CableOrganizer.com also publishes "On the Wire," a free monthly electronic newsletter with a considerable multi-national opt-in circulation base. Among other honors, CableOrganizer.com is continually named among Inc. Magazine's Inc. 500 and 5,000 and Internet Retailer magazine's "Top 500." CableOrganizer.com also ranked on DiversityBusiness.com's list of "Top 500 Women Owned Businesses in the U.S." and was named among the South Florida Business Journal's "Best Places to Work."
Note to Editors: High resolution artwork and select product review samples available by request. Contact Leanne Naidoo, CableOrganizer.com, leanne(at)cableorganizer(dot)com, 954-861-6349.
CableOrganizer is a trademark of CableOrganizer.com, Inc. Other product and company names herein may be trademarks of their respective owners. Copyright 2011 CableOrganizer.com, Inc. All rights reserved.
###