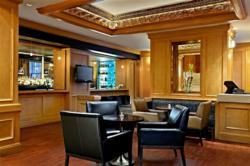 Eve is an urban chic cocktail lounge that offers hotel guests a space to relax and mingle and also a spot to host a private reception after a day of Halifax conferences
Halifax, Nova Scotia (PRWEB) June 13, 2011
Offering superb Halifax Dining and nightlife, Eve Lounge and Bar was awarded the designation of Best Hotel Lounge by the magazine the Planner. The Planner is a Canadian publication devoted to meeting and event planners. Their March 2011 edition featured Halifax and its exciting nightlife.
Eve Lounge boasts an impressive Wine Spectator award winning wine list and offers a selection of over 100 bottles. "Eve is an urban chic cocktail lounge that offers hotel guests a space to relax and mingle and also a spot to host a private reception after a day of Halifax conferences," states Raj Gupta, Director of Food and Beverage Operations.
The Halifax Hotel prides itself on its modern yet historic charm. One of the most unique features is Roy Clorey, bartender for over 47 years. Roy has worked for the hotel when it was owned by CP Rail and Hilton. Guests return to the lounge to experience his intriguing stories and East Coast hospitality.
Eve Lounge is a busy spot for attendees for a wedding in Halifax, a Halifax meeting or before a night at Halifax comedy club, Yuk Yuks. Eve Lounge is a Starbucks café by day, lounge by night, and is an extension of Elements Dining Room. The Westin Nova Scotian's Halifax restaurant features Nova Scotia cuisine with an international flair.
The Westin Nova Scotian's new outdoor patio is expected to open on Friday, June 10. Guests can enjoy a cocktail or bite to eat from their well lit space that overlooks scenic Cornwallis Park. The patio is located directly off Eve Lounge.
To learn more about the Westin Nova Scotian and its restaurants, meeting space and Halifax accommodations, visit http://www.thewestinnovascotian.com today.
###