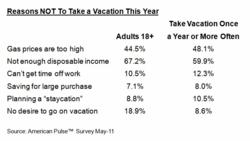 Over half of Americans say they are somewhat/very concerned about terrorist attacks when they fly.
Worthington, OH (PRWEB) June 02, 2011
More than 3 in 10 (33.4%) Americans say they are not planning to take a vacation in 2011. According to these people, financial issues and high gas prices are the two biggest reasons why they are not vacationing, according to the latest American Pulse™ Survey of 5,331 respondents.
The majority (67.2%) of Americans staying at home this year say a lack of disposable income is a reason they are not taking a vacation. 44.5% say high gas prices influenced this decision. Even 11.8% of those who take one or more vacations a year are opting out of travel in 2011. More of these Regular Vacationers are feeling the pressure at the pump—48.1% said high gas prices influenced their vacation plans. 1 in 10 (10.5%) Regular Vacationers are planning a "staycation" this year.
For a complimentary report: http://www.formsite.com/prosper/ampulse060211
The fear of terrorist acts may also be hindering vacation plans for some. Over half (54.0%) of Americans say they are somewhat/very concerned about such acts when they fly. 44.4% are concerned when they travel in general. Perhaps historical American cities such as D.C. will see less tourist traffic this year: 42.6% say they worry about terrorist acts when visiting government buildings.
Other Key Findings:

63.9% say they would have voted for a bill that would speed up oil drilling off the Gulf Coast that the Senate recently rejected…13.9% would have voted against it and 22.2% aren't sure.
73.9% say now is the time to do something about dwindling funds for Medicare and Social Security…5.7% say nothing needs to be done—these programs will survive no matter what.
56.8% say the Obama Administration's strategy to change Palestinian borders back to the way they were in 1967 won't lead to peace in the Middle East…11.7% say it will.
67.1% think the media is corrupt…17.2% say it's not.
Fox News is the most trusted news source at 23%.
74.2% say they regularly/occasionally use Facebook. Of those, 35.3% say they "like" between 1 and 5 retailers…34.3% say they don't "like" any.
21.8% say they regularly/occasionally use Twitter. Of those, 29% say they "follow" between 1 and 5 retailers…47.4% say they don't "follow" any.
Email is the most preferred way for consumers to receive promotions from retailers at 39.3%, followed by direct mail (33.7%) and newspaper (18.6%).
American Pulse™
The American Pulse™ Survey is collected online by BIGresearch® twice a month exclusively utilizing SSI's U.S. panel covering topics such as politics, pop culture and the economy. 5,331 respondents participated in the 2nd May American Pulse conducted 5/24-5/26/2011. Margin of error is +/- 1.4%. http://www.biginsight.com
Survey Sampling International (SSI)
Survey Sampling International (http://www.surveysampling.com) is the premier global provider of sampling solutions for survey research. SSI reaches respondents in 72 countries via Internet, telephone and mobile/wireless. Client services include questionnaire design consultation, programming and hosting, and data processing. SSI serves more than 2,000 clients, including 48 of the top 50 research organizations. Founded in 1977, SSI has 17 offices in 15 countries.
BIGresearch
Chrissy Wissinger
chrissy(at)bigresearch(dot)com
Randi Honkonen
randi(at)bigresearch(dot)com
614.846.0146
SSI
Ilene Siegalovsky
Ilene_Siegalovsky(at)surveysampling(dot)com
203-567-7230
###