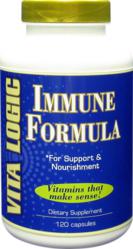 Bryan Hatcher, sales manager of Vita Logic says, "We spent a lot of time developing this product and the results are clear: a holistic approach using antioxidants along with classic essiac herbs, is one of the most powerful blends on the market today."
Columbus, GA (PRWEB) June 05, 2011
A recent clinical study demonstrated Immune Formula by Vita Logic is extremely effective not only in helping people feel better, but also according to participants' blood work, showed improvement in overall immune system functioning.
The study included 21 subjects, ages 22 to 66 for 8 weeks; questionnaires and blood work was conducted at the start, at 4, and then 8-week marks. Participants took Immune Formula throughout with no reported side effects.
Researchers concluded Immune Formula by Vita Logic resulted in 38% reporting they felt better while taking the supplement. The blood work that was taken was used to examine patients' immune proteins and revealed an increase in globulin of 13.59%, meaning improvement in immune functioning. In addition, the average A/G (albumin/globulin) ratio fell 22%, signifying a beneficial reduction in inflammatory proteins. Lower levels of inflammatory proteins is correlated with less occurance of disease, less hardening of the arteries, better blood sugar control and reduced cancer risk.
A physician's assistant supervised the study, while a clinical pharmacist interpreted the results. Vita Logic supplied the supplement in unmarked bottles so that none of the study participants, PA or pharmacist knew what the supplement was or who manufactured it. This is known as a "blind" study and is respected as being free from commercial bias or prejudice.
According to this research, Vita Logic's Immune Formula is safe and effective for nourishing and supporting the immune system and can be taken long term for optimum benefits. This supplement is recommended for anyone wishing to support their immune system, but particularly for persons with an autoimmune diseases including lupus, scleroderma, thyroiditis, multiple sclerosis, fibromyalgia, cancer, recurrent illness or those requiring steroids.
Founded in 1994, Vita Logic was established with the mission to produce superior vitamins and supplements that would meet the highest standards of quality and at the same time give the customer the best value for their money. What started with the formulation of the multiple vitamin and mineral supplement, Vita Logic Daily Extra, has now grown into a family of products addressing various health needs. The formulary design team includes a board-certified medical doctor, allowing Vita Logic to stay on top of the latest research and keep customer safety a top priority. Also being a member of the NPA, Vita Logic puts full confidence in the unsurpassed quality of their products.
# # #