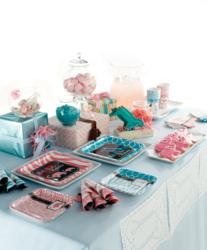 We'd like to welcome summer with a big sale on some of our most popular safari and jungle animal baby shower and first birthday themes!
Enumclaw, WA (PRWEB) June 02, 2011
PartyPail, a leading supplier of bridal shower, birthday party, and baby shower supplies, has announced a sale on three of its most popular baby shower and 1st birthday party themes. The Wild Safari baby shower themes for boys and girls, as well as the Monkeyin' Around Birthday Party Theme, are on sale for a limited time at 10% off of PartyPail's regular prices.
"We've had a long, cold, and rainy winter here in Washington, so what better way to celebrate the start of summer than to share our enthusiasm with our customers?" says Edward Hechter, PartyPail's CEO. "Just as people are getting ready to enjoy barbecues, swim parties, and any other possible reason to relax with friends, we thought it would be great if we could help people celebrate life's special events at as low a cost as possible."
Wild Safari Blue, a popular theme for boys' baby showers, features elephants and animal prints on a blue and brown colored background, making it very popular with expecting mothers. A Wild Safari Pink baby shower is a great girls' version of a safari theme, showcasing elephants and animal prints on a pink and brown color foundation. On top of these safari themes, the sale applies to the monkey around birthday theme, which is a fun and whimsical birthday theme that is popular for celebrating little ones' first birthdays. Each of these themes is 10% off of PartyPail's regular prices, which are already discounted up to 50% off of retail prices.
The Wild Safari and Monkeyin' Around themes are available for 10% off the current price through the month of June. The discount is available when customers make a purchase online by entering the coupon code from the website during the checkout process, and can also be used when placing an order over the phone.
"Our Wild Safari and Monkeyin' Around themes have been some of our top sellers in recent months," says Traver West, General Manager of PartyPail, "so we worked out a way to offer prices on them that are lower than we ever have before. Everyone appreciates a good discount, and when it's a discount on products people really love it's even better."
PartyPail is known for offering the lowest prices possible on baby shower and first birthday decorations, and this time these select themes are being offered at the lowest prices they have ever been at PartyPail.com.
About Us:
PartyPail, Inc. provides invitations, décor, and favors for all of life's important milestone events. Specializing in baby shower supplies, PartyPail also provides décor and favors for 1st birthday parties, wedding showers, baptism parties, and adult birthday party products. Located in beautiful Enumclaw, Washington, the company was founded to help people celebrate important events in life at an affordable price. Customer service is a primary tenet to PartyPail's goals, and one of the main reasons for the company's success in providing supplies for some of the most important events in people's lives.
###