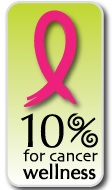 Our philosophy is that business and compassion can, and should, coexist.
Boulder, CO (PRWEB) June 03, 2011
The Tea Spot, a Boulder-based tea company, is staying true to a compassionate pledge. The "10% Pledge" of this philanthropic, woman owned and operated company is to donate 10% of every sale in-kind toward cancer and community wellness. This week, the Colorado Ovarian Cancer Alliance (COCA) will receive the largest single donation The Tea Spot has ever made, as they host their second annual Jodi's Race for Awareness.
The race was founded by Jodi Brammeier - a Denver wife, mother, and runner – who after being diagnosed with stage III ovarian cancer in 2008 found a new mission. Jodi partnered with COCA to create a race that promotes awareness about ovarian cancer so that other women might detect cancer earlier and improve their chance to survive. In its inaugural year in 2009, Jodi's Race drew over 1700 runners and walkers, netting over $140,000. The race continues to be a strong force in raising funds for ovarian cancer research and outreach annually.
Jodi's Race is especially dear to The Tea Spot. The Tea Spot's founder and CEO, Maria Uspenski, discovered the benefits of premium loose tea during her own recovery from ovarian cancer. Similar to Jodi and the Colorado Ovarian Cancer Alliance, she took her tribulation and moved forward. The result is a business dedicated to promoting loose leaf tea for an improved quality of life. Uspenski proudly claimed, "our philosophy is that business and compassion can, and should, coexist." And it's this mission which earns respect and growth… in both business and generosity.
The mission behind The Tea Spot's roots--to foster health and wellness by making loose leaf tea an everyday luxury--will be shared on June 4th, 2011, as 2,500 runners gather to participate in Jodi's Race for Awareness, in Denver's City Park. Hosted by the COCA, survivors and supporters will celebrate life, remembrance, awareness and education. Each participant will receive a gift bag with $25 of The Tea Spot's products. The gift bags contain a tin of loose tea and a tea infuser uniquely designed by The Tea Spot for active lifestyles. With a goal of sharing loose leaf tea for its health benefits and accessibility, this donation is sure to resonate with the walkers and runners of Jodi's Race.
The Tea Spot is a proud sponsor of Jodi's Race for Awareness: a spectacular event with phenomenal intent.
About Jodi's Race
Jodi's Race for Awareness is scheduled for Saturday, June 4, 2011 in Denver's City Park, Colorado Boulevard and 23rd Street, and includes a 1-Mile Family Walk as well as the 5K Run/Walk. To learn more about the Colorado Ovarian Cancer Alliance (COCA) and its programs visit http://www.colo-ovariancancer.org.
About The Tea Spot, Inc
The Tea Spot is a certified woman-owned and operated business producing proprietary products for loose-leaf tea. Patented tea serving and steeping products are marketed under the Steepware® trademark. They also offer a line of exclusive, organic, and Fair-Trade Certified™ leaf teas. Based in Boulder, Colorado, the company was founded in 2004 by Maria Uspenski, a cancer survivor drawn to the health benefits of leaf tea during her recovery. She set forth to modernize the loose-leaf tea experience, making it an everyday luxury. Her message is simple and powerful: tea in its freshest form renders incredible flavor, unmatched health benefits, and is eco-friendly. The company ensures that its products uphold clean, sustainable and fair manufacturing standards. The Tea Spot's model of social entrepreneurship incorporates a culture of giving as it grows: Ten percent of every sale made is donated in-kind to cancer and community wellness programs. More at theteaspot.com or media(at)theteaspot(dot)com.
###