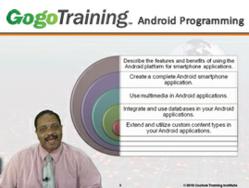 an advanced learning opportunity for a fraction of the time and cost
Scottsdale, AZ (PRWEB) June 02, 2011
GogoTraining has released nine unique online IT training courses with live mentoring sessions designed to fast-track career advancement opportunities as part of their 2011 Mentor-Accelerated Summer Training Program. The courses are scheduled in July of 2011 only, are affordable for anyone to take, and offer limited seats available.
The courses involve watching assigned online video material, doing hands-on lab and exercise work, and attending live online sessions with the instructor. The live sessions are once each week for two hours and provide for instructor-led review, discussion and previewing of the coming week's material. "These are for someone who wants an advanced learning opportunity for a fraction of the time and cost," says Marianne Cherney, CEO of GogoTraining. "Our Mentor-Accelerated training courses are perfect for those who wish to gain extra skills needed for a promotion or new position."
Offered courses include popular selection from the GogoTraining online course catalog such as Oracle Real Application Clusters, Oracle Application Express (APEX), Introduction to Android Programming, Programming in Java 6 w/ Swing & Servlets, ITIL® v3 Foundations, ITIL® Continual Service Improvement, Programming for Non-Programmers, Introductions to C Programming, and Red Hat Linux Essentials.
Courses in GogoTraining's Mentor-Accelerated Summer Training Program include expert instructors, the same material taught in corporate IT training classrooms, engaging "classroom experience" video modules, hands-on labs and exercises, direct access to ask the instructor questions, and weekly 2-hour live online mentoring sessions including review, discussion and previewing of coming material.
Prospective students may learn more about The Mentor-Accelerated Summer Training Program at the following web address: http://gogotraining.com/training/programs/mentor-accelerated-training-program.php
###