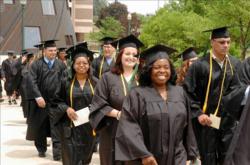 "Who, among you, could not have finished your degree if your courses were not online?" asked college president, Ed Klonoski.
New Britain, CT (PRWEB) June 05, 2011
Working Adults Make Up Majority of Class of 2011 at Connecticut's Only Public Online College.
550 Receive Diplomas During June 5 Commencement Ceremony U.S. Afghanistan Advisor Is Honorary Degree Recipient
In contrast to the unemployed status of most 2011 graduates of traditional colleges and universities, a majority of members of this year's graduating class at Charter Oak State College are already employed.
Many of the 550 students who received degrees during Charter Oak's June 5 graduation ceremony are working adults who, following education hiatuses, made personal commitments to complete their degrees in order to advance their careers. The graduating class of online learners, whose average age is 39, currently hold positions within a broad spectrum of employment environments including business, industry, government and the fields of healthcare, public safety, information technology and education.
Women make up 60% of the Charter Oak class of 2011, and one-third of the members of the class live outside of Connecticut. They reside in 37 states and four foreign countries. The youngest class member is 16; the oldest is 70.
Graduation was a family affair for four members of this year's class. Victoria and Thomas Zakrzewski of Meriden, CT, mother and son, earned Bachelor of Arts degrees. Both are employed by the city of Meriden. A married couple, Mary and John Connelly, who are East Hampton, CT residents, were recipients of Bachelor of Science degrees. They hold health care management positions at Connecticut's Middlesex Hospital.
In his remarks to attending graduates and their families and to other members of the Class of 2011 across the country who watched via a live Webcast, Charter Oak president, Ed Klonoski sounded a congratulatory note, then asked: "Who, among you, could not have finished this degree if your courses were not available online?" He was alluding to the creation of Charter Oak by the Connecticut State Legislature in 1973 to serve adult students and to the college's status as Connecticut's only totally online public college.
David Matthews, a Charter Oak alumnus and business consultant who is on special assignment for the U.S. Government in Afghanistan, received the honorary degree, Doctor of Humane Letters. Most of Matthews' career has been spent in industry management, negotiations and investment advisory capacities. He currently serves the Department of Defense Civilian Expeditionary Workforce as a primary expert in Economics and Development with involvement in counterinsurgency strategies. Last November, he was awarded the NATO Medal for his service as Senior Strategic Advisor for Stability Operations in Afghanistan's capital city of Kabul. He will return to his duties in Kabul this summer. Klonoski read a congratulatory letter in which General David Petraeus, U.S. Commander in Afghanistan, lauded Matthews for his service and achievements. In his remarks General Petraeus said of Matthews, "You are a tremendous public servant who more than deserves this honor. You brought to your service in the Civilian Expeditionary Workforce a lifetime of experience in the private sector and deep cross-cultural expertise, as well as the spirit of a Renaissance man who jumps at and meets every challenge, from climbing Kilimanjaro and piloting balloons to launching the Peace Corps program in Kyrgyzstan…..Indeed, I remain deeply grateful for the economic and development expertise you provided here last year as you worked with Afghan, ISAF, and USAID leaders to bring greater hope and a brighter future to Afghanistan."
Charter Oak State College, which is accredited by the New England Association of Schools and Colleges, has earned national recognition as the college that offers 'degrees without boundaries."
It is a public institution in the Connecticut state system of higher education. Historically, more than 50% of Charter Oak graduates have gone on to master's and doctorate programs.
For more information about the college, visit http://www.CharterOak.edu or call (860) 832-3855.
###