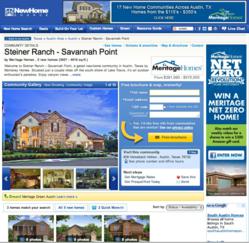 Today's consumer expects an easy to navigate and seamless digital experience when they are online looking for their dream home.
Austin, TX (PRWEB) June 02, 2011
Builders Digital Experience (BDX), the leading provider of digital marketing resources for builders, today announced updated versions of NewHomeSource and Move New Homes, the #1 and #2 new home websites. Now, new home shoppers who visit NewHomeSource and Move New Homes can view more than 70,000 new homes listed for sale on the sites through rich media galleries, interactive floorplans, and larger images.
New features on the sites include:

Rich media galleries showcasing home and community images and videos.
Larger, more prominent images throughout the site.
Expanded floorplan views including an option to utilize interactive floorplans.
Enhanced opportunities for builder branding.
Gallery style listings of new homes and communities.
More prominent lead form and additional opportunities for shoppers to connect with builders.
"Today's consumer expects an easy to navigate and seamless digital experience when they are online looking for their dream home. They want to see videos and images, and truly experience all that the builder has to offer," said Tim Costello, BDX chief executive officer. "Now NewHomeSource and Move New Homes deliver on this expectation and showcase new homes in a way that connects homebuyers with builders like never before."
The redesign of both sites is based on the latest research that shows the impact video and interactive rich media have on consumer search behavior. Today, over 90 million Americans watch on average over 200 videos a month. Retail site visitors who view video stay 2 minutes longer on the site and are 64% more likely to purchase. Now both BDX sites feature rotating media galleries, alongside each new home and community listing.
"We've all heard that a picture is worth a thousand words, but Forrester Research estimates that a video is actually worth 1.8 million words," Costello continued. "That's why we've placed such a strong emphasis within the new sites on video content. Buying a new home is such a highly involved and emotional purchase and consumers want to see all the details and feel a connection with the builder – video is a powerful way to deliver these messages."
Builders in over 300 markets across the country list their new home communities on NewHomeSource and Move New Homes. These builders also take advantage of BDX's exclusive "List Once. Be Everywhere." program – a turnkey solution which distributes their new home and community information across the BDX network of more than 300 partner sites, reaching over 40 million new home shoppers each month.
"No other company offers this level of marketing for a builder's new homes," concluded Costello. "From our unequalled Internet reach to the exciting new digital marketing features on our sites, when builders list with BDX, they truly have the Internet covered."
About Builders Digital Experience
Builder's Digital Experience, LLC (BDX) from Builder Homesite, Inc. and Move, Inc. (NASDAQ:MOVE) was founded in October 2009 to combine the industry's leading new home resources under one roof and offer builders innovative online marketing options, streamlined customer service and support, and greater value. BDX includes the top two new home websites, NewHomeSource.com from Builder Homesite and Move New Homes. Additional services include video production, rich media rendering, mobile search, custom website production, connections to real estate professionals, and more. Together these online and interactive resources help builders create a true digital experience for their buyers. For more information, visit http://www.thebdx.com.
This press release may contain forward-looking statements, including information about management's view of Move's future expectations, plans and prospects, within the safe harbor provisions under The Private Securities Litigation Reform Act of 1995. These statements involve known and unknown risks, uncertainties and other factors which may cause the results of Move, its subsidiaries, divisions and concepts to be materially different than those expressed or implied in such statements. These risk factors and others are included from time to time in documents Move files with the Securities and Exchange Commission, including but not limited to, its Form 10-Ks, Form 10-Qs and Form 8-Ks. Other unknown or unpredictable factors also could have material adverse effects on Move's future results. The forward-looking statements included in this press release are made only as of the date hereof. Move cannot guarantee future results, levels of activity, performance or achievements. Accordingly, you should not place undue reliance on these forward-looking statements. Finally, Move expressly disclaims any intent or obligation to update any forward-looking statements to reflect subsequent events or circumstances.
# # #