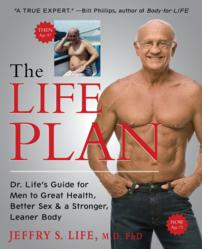 I'm thrilled with The Life Plan's success and what that hopefully will mean to men—helping them get healthier and their passion for life back.
Las Vegas, NV (PRWEB) June 03, 2011
Dr. Jeffry S. Life's groundbreaking book—"The Life Plan: How Any Man Can Achieve Lasting Health, Great Sex, and a Stronger, Leaner Body"—will hit #15 on the New York Times bestseller extended list in the how-to/advice category on June 5, 2011, announced Cenegenics® Medical Institute. Life is a Cenegenics physician partner and an age management medicine expert, featured on major TV shows and in Cenegenics ad campaigns. His book, published by Atria Books/Simon & Schuster, targets the large, aging baby boomer audience, helping them reverse biological age by 10 to 20 years so they can stay in the game and feel stronger, healthier and sexier.
Life—a 72 year old with the body of a 30 year old—devised a step-by-step program that introduces a healthy aging lifestyle that any man can master, regardless of what shape he's in. "The Life Plan" is the same approach that brought Life to new levels of fitness he had never dreamed possible more than a decade ago when he was pre-diabetic with a pot belly, high cholesterol levels, low libido, fatigue and sluggish thinking.
"I'm totally thrilled with the book's" success—and what that hopefully will mean to its growing number of readers. My goal is to help men not only get back into shape and in a healthier condition, but also get back their passion for every facet of their lives, whether they're 20 or 80," Life said.
He says "The Life Plan" empowers men, showing them how to sidestep the traditional disease-based medical approach and transform their lives with the effective, healing and empowering lifestyle plan he created.
"The Life Plan" was inspired by Cenegenics founder Dr. Alan P. Mintz's vision, which has expanded to far-reaching levels he may not have realized initially, according to Life.
"The book's focus is to guide men to lead their healthiest life ever, face their inner demons and look at aging in a whole new way," Life said.
For more information about Cenegenics or Cenegenics-Dr. Life, please visit them online. At either site, you may register for quick access to the online Cenegenics Healthy Aging Kit: informative Guide to Healthy Aging, Executive Summary and media excerpts.
To schedule an interview, please contact Ann Castro, Cenegenics Director of Media Relations: 702.953.1588.
About Jeffry S. Life, MD, PhD, FAAFP
Recipient of the first-ever Alan P. Mintz, MD Award for Medical Excellence in Age Management Medicine, Dr. Jeffry S. Life is CEO of the Cenegenics-Dr. Life center located in Las Vegas, Nevada. Dr. Life takes a progressive, straightforward approach to help patients enjoy healthy, active aging with physical and sexual energy. His focus is proactive, leading-edge medicine and lifestyle interventions—rather than the traditional reactionary approach to disease. Dr. Life is a Cenegenics® physician partner and former chief medical officer of Cenegenics Las Vegas, the global leader in age management medicine. Since 2006, Dr. Life's before-and-after pictures have captured national and international media attention, motivating people worldwide to become his patients and learn how to manage their aging process.
About Cenegenics
Cenegenics® Medical Institute, recognized leading authority in age management medicine, has two centers in Las Vegas, Nevada, as well as centers in Charleston, South Carolina; Boca Raton, Florida; Dallas, Texas; Arlington, Texas; Atlanta, Georgia; Chicago, Illinois; Beverly Hills, California; Philadelphia, Pennsylvania; Washington, DC; New York City, NY; Tulsa, OK; Jacksonville, FL; Atlantic City, NJ; Houston,TX; Denver, CO. Additional centers are scheduled to open in other major metropolitan areas in the near future. With an established presence in the medical community, Cenegenics uses a proactive approach based on solid science and comprehensive evaluation. Their established protocols have been recognized as the next generation of medical science, capturing global attention. Cenegenics offers CME-accredited physician training and certification opportunities in age management medicine via the nonprofit Cenegenics Education and Research Foundation (CERF). Headquartered in Las Vegas, Cenegenics serves more than 20,000 patients worldwide—2,000 are physicians and their families.
###