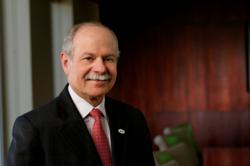 I'm honored and privileged to lead one of the nation's most admired orchestras, particularly now as we look forward to the BSO's centennial celebration in 2016.
Baltimore, MD (PRWEB) June 04, 2011
At a meeting of the BSO Board of Directors on Wednesday June 1, 2011, Kenneth W. DeFontes, Jr. was elected the Orchestra's new board chair-elect, to succeed Michael G. Bronfein as chair for a two-year term effective Sept. 21, 2011. DeFontes, who has served as an active member of the BSO board for the past six years, is President and CEO of Baltimore Gas and Electric Company (BGE) and a Senior Vice President with Constellation Energy. During his tenure as a BSO board member, DeFontes has served as a member of the finance committee and chair of the governance committee, the subset of board members responsible for nominating and recruiting future BSO leadership.
DeFontes succeeds current board chair Michael Bronfein, Chairman and CEO of Remedi SeniorCare, who served for five years. Mr. Bronfein applauds the selection, "Ken's contributions as a board member have been invaluable. With Ken at the helm, the BSO will continue to benefit from his tireless energy, keen financial insight and heartfelt devotion to the organization. I am confident that under Ken's leadership, in partnership with [Music Director] Marin Alsop's dynamic artistic ingenuity and President & CEO Paul Meecham's track record of fiscal stability, the BSO will continue on its path of relevance in the community, artistic excellence and financial success."
"Ken's experience as a BSO board member and leader of one of the region's most important businesses makes him the ideal choice as the BSO's next board chair," adds BSO President and CEO Paul Meecham. "He has been a highly involved board member, shepherding the BSO through the economic downturn as a member of the finance committee, and enabling the organization to balance its budget for three out of the past four years."
Commenting on his appointment, DeFontes said, "I'm honored and privileged to lead one of the nation's most admired orchestras, particularly now as we look forward to the BSO's centennial celebration in 2016. The Baltimore Symphony Orchestra is a priceless part of the fabric of the community and contributor to the quality of life in our region. I look forward to continuing the progress we've made under Michael's leadership and further positioning this terrific institution now and into the future."
About Kenneth W. DeFontes, Jr.
Kenneth W. DeFontes, Jr. is President and Chief Executive Officer of BGE. He served as Vice President, Electric Transmission and Distribution from 2000 to 2004.
DeFontes joined BGE in 1972 as an associate engineer and has held various leadership positions, including supervisor, general supervisor, manager and vice president.
DeFontes served in the Maryland Air National Guard from 1972 to 1978 and was honorably discharged as staff sergeant.
DeFontes is vice chair of Reliability First Corporation, a member of the American Society of Mechanical Engineers and a board member of the American Gas Association and Southeastern Electric Exchange.
Other memberships include Baltimore Symphony Orchestra Board of Trustees, Economic Alliance of Greater Baltimore Board of Directors, Johns Hopkins Whiting School of Engineering National Advisory Council, The Center Club, Baltimore Country Club and the Harford Flying Club. Until recently, DeFontes also served as a member of the St. Joseph Medical Center Operating Board of Trustees.
DeFontes holds a bachelor's degree in engineering from Swarthmore College and a master's degree in business administration from Loyola College. A resident of Baltimore County, Md., DeFontes is married and has one son.
About the Baltimore Symphony Orchestra
The Grammy Award-winning Baltimore Symphony Orchestra (BSO) is internationally recognized as having achieved a preeminent place among the world's most important orchestras. Acclaimed for its enduring pursuit of artistic excellence, the BSO has attracted a devoted national and international following while maintaining deep bonds throughout Maryland with innovative education and community outreach initiatives.
The BSO made musical history in September 2007, when Maestra Marin Alsop led her inaugural concerts as the Orchestra's 12th music director, making her the first woman to head a major American orchestra. With her highly praised artistic vision, her dynamic musicianship and her commitment to accessibility in classical music, Maestra Alsop's leadership has ushered in a new era for the BSO and its audiences.
Under Music Director Marin Alsop's leadership, the BSO has rapidly added several critically acclaimed albums to its already impressive discography. The BSO recently released Dvořák's Symphonies Nos. 6, 7 and 8, the final two discs in its three-disc Dvořák cycle. In August 2009, the BSO and Marin Alsop released Bernstein's Mass featuring baritone Jubilant Sykes, the Morgan State University Choir and the Peabody Children's Chorus. The album rose to number six on the Classical Billboard Charts and received a 2009 Grammy nomination for Best Classical Album. The Orchestra made its foray into online distribution in April 2007 with the release of a live-concert recording of Stravinsky's The Rite of Spring on iTunes, which quickly became the site's number one classical music download.
In addition to the Joseph Meyerhoff Symphony Hall, where the orchestra has performed for 28 years, the BSO is a founding partner and the resident orchestra at the new state-of-the-art Music Center at Strathmore, just outside Washington, D.C. With the opening of Strathmore in February 2005, the BSO became the nation's only major orchestra with year-round venues in two metropolitan areas.
###