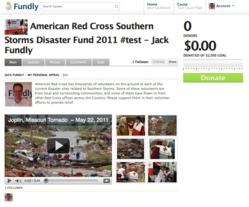 "Replacing your donation page with Fundly's new Social Donation Page can increase fundraising revenues by 52%"
Palo Alto, CA (PRWEB) June 02, 2011
Fundly, the Internet's largest social fundraising company today announced the launch of a revolutionary non-profit social fundraising platform. Fundly, which has empowered clients to raise over $210 million in donations, now goes beyond Facebook and traditional email blasts to tap into dozens of social networks. Unique features include: Social Donation Pages, Social Fundraising Tracking, and a Social Messaging Center that are deeply integrated with social networks including Twitter, StumbleUpon, Blogger, Digg, and, of course, Facebook.
Social Donation Pages
With Social Donation Pages, non-profits are able to replace their old, two-dimensional donation page with a Web 2.0 Social Donation Page. Social Donation Pages take the next step beyond the donation and ask: "who else do you know?" Using social networking dynamics, the social donation page is able to suggest people the donor knows with similar philanthropic inclinations and provides a way for the donor to spread the word about the cause they just donated to.
"When presented with the opportunity to share their support, most donors (70% on average) take the next step," said Dave Boyce, CEO of Fundly. "Fundly's social engagement features end the age old practice of donors being allowed to virtually 'drop their gift and drive away'."
You can also setup predefined giving levels and rewards to encourage larger and recurring donations as well as asking supporters to donate their social graph for use by your cause.
Social Fundraising Tracking
The new Fundly platform measures social fundraising performance in real-time for the administrators of the cause as well as for individual supporters. This real-time tracking of social metrics allows cause administrators to tailor their efforts and more rapidly add new donors and supporters to their supporter database and social graph. As a result, leveraging social networks is having a direct and measurable impact on the ongoing fundraising success of non-profit organizations for the first time.
"Replacing your donation page with Fundly's new Social Donation Page can increase fundraising revenues by 52%," said Dave Boyce, CEO Fundly.
Recently, Fundly collaborated with the Red Cross Silicon Valley on a campaign to benefit Japanese Tsunami victims, and within 24 hours, for every 100 donations Fundly processed, 25 supporters agreed to post a button on their Facebook wall, resulting in 3,375 total impressions, 152 click-throughs and 50 incremental donations.
Metrics most commonly tracked by both cause administrators and individual supporters include:

Facebook shares (messages)
Twitter Shares (tweets)
Cause page shared on other sites (widgets)
Cause Page views
Followers – keep track of your causes' supporters and followers
Referred donations—donations sourced through your supporters' networks
Social Messaging Center
Fundly's new Messaging Center makes it easy for a non-profit to tell its story and spread the message. The multi-social messaging tools allow cause administrators and supporters to message their entre social graph, across dozens of social networks from one integrated fundraising platform. Organizations can upload video messages and photos, add frequent status updates and encourage your supporters to add their own personal appeals. Most importantly it helps supporters personalize their solicitations by sharing their own stories, images, and appeals, making it a truly social, peer-to-peer fundraising experience.
Learn more about social fundraising with this FREE Fundly Webinar:
Tuesday June 7, 1 pm PT
Webinar "Success Metrics for Social Fundraising"
Register Here: www3.gotomeeting.com/register/227476846
Or e-mail us at hello(at)fundly(dot)com to receive your own personalized demo of the Fundly platform.
About Fundly
http://www.Fundly.com
Based in Palo Alto, CA, Fundly was launched in 2009 and has over 400 cause-based organizations as customers (non-profits, political organizations, and educational institutions). Fundly has been growing 600% year-over-year and has helped clients raise more than $210 million to date. Current customers include Silicon Valley Education Foundation, American Red Cross Silicon Valley Chapter, Boise State Athletic Association, and Special Operations Warrior Foundation. The company has won multiple awards, including three Pollie Awards, two Reed awards, and one Silicon Valley Emerging Technology award.
###