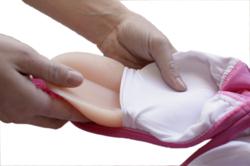 The beautiful thing is, and really what I love about Hapari, is that they listened to our request to help cancer survivors.
(PRWEB) June 06, 2011
For survivors of breast cancer who have undergone a mastectomy, warm weather often means missed opportunities for summer fun or discomfort when at the pool or beach. Hapari seeks to help those affected by expanding its line of mastectomy swimsuits.
"I was really, really having a struggle trying to find swimwear that I felt cute in; that I felt had good quality, but that also could fit my prosthesis since, you know, I didn't have boobs!" said breast cancer survivor and Happy Chemo! founder Ginger Johnson in an online review. "This is why I really love Hapari. They listen."
In conjunction with Happy Chemo!'s review, Hapari recently announced that it will expand its selection of suits for breast cancer survivors when it introduces a line of mastectomy swimwear especially designed to be worn with breast prostheses in 2012. With this line the company will slightly modify the way the suits are made to allow for more prostheses to be used comfortably. Each of Hapari's swimsuits is currently made with pads in the breast area that can accommodate some prostheses as well as the company's Illusion silicon breast inserts.
"The beautiful thing is, and really what I love about Hapari, is that they listened to our request to help cancer survivors," said Johnson. "Part of what we do with Happy Chemo! in reaching out to companies is looking for those that are qualified, that see the vision in what we're doing and are really trying to make a difference, and I believe that Hapari has seen that."
According to a survey published in the Journal of Clinical Oncology in 2010, 37 percent of breast cancer patients in the United States undergo a mastectomy as part of their treatment for cancer. As many as one in eight women are expected to develop invasive breast cancer over the course of a lifetime.
New products like Hapari's line of mastectomy swimwear help patients who have gone through this experience to continue to experience life normally.
About Hapari
Hapari International, LLC makes swimsuits and long tankinis that are stylish and comfortable for all body types, enhancing the curves women want while hiding those they don't. The versatile swimwear can be mixed and matched with any top and bottom so that women get the perfect fit. The company began when two designer mothers took their dissatisfaction with women's swimwear and turned it into a passion. Hapari's modest swimwear has body-shaping secrets that enhance the female figure and allow every woman to feel confident and beautiful in her swimsuit. For more information, visit http://www.hapari.com.
###