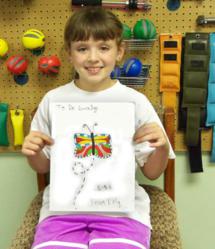 Oklahoma City, OK (PRWEB) June 03, 2011
Dr. Houshang Seradge of the Orthopedic Institute has developed a surgical procedure for tendons in the hand which customarily goes undiagnosed and untreated with significant residual disability. The surgery is performed as an out-patient procedure. Results of Dr. Seradge 's treatment technique have been quite satisfactory.
A case in point is 9 year old Lily Bonds who injured her right hand while playing ball. Four months and four different physicians later, Lily still had a stiff and painful finger. She was unable to use her hand for many of her daily activities. Lily came to Dr. Seradge, who performed surgery on her finger. Within a few weeks she regained the use of her hand. Mrs. Bonds, Lily's mother said "My daughter was unable to hold a pencil correctly for 5 months. She now draws, and even plays the piano again. If anyone I know has a hand injury I will recommend Dr. H Seradge because I know he can fix it".
This procedure is designed to help people and athletes who feel have received a minor injury to the extensor tendons of their hand yet have not recovered completely. It is usually treated as a sprain by coaches and physicians. However in reality it is an injury to the extensor mechanism of the hand. Untreated it is a disabling condition.
The Orthopedic Institute was founded 31 years ago by Houshang Seradge, M.D. - an orthopedic and hand surgeon. Patients will find a full spectrum of orthopedic care, with the doctors, the diagnostic facilities, rehabilitation, out- patient surgery and an in-patient hospital all in one building. This makes it very convenient for patients to receive care quickly and efficiently. The physicians at the Orthopedic Institute provide general orthopedics, hand surgery, foot & ankle surgery, shoulder surgery, spine surgery, arthritis care, joint replacement, neurology, and pain management.
###