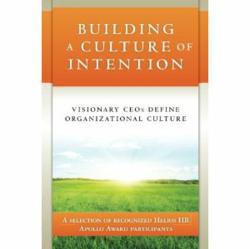 "This book gives us the opportunity to tell our story and the level of commitment we have to the success of our employees."
Herndon, VA (PRWEB) June 03, 2011
VISTA Technology Services, Inc. (VISTAtsi), is featured in Helios HR's new book release, "Building a Culture of Intention". This work is a collection of inspiring stories from over 20 Washington business leaders and Apollo Award participants. It is now available for purchase on Amazon.
"It is an honor to be showcased along with such other dynamic companies," commented David Baxa, President and CEO, VISTAtsi. "This book gives us the opportunity to tell our story and the level of commitment we have to the success of our employees."
As a 2009 Apollo Awards finalist and 2010 winner, VISTAtsi is dedicated to investing in employee development initiatives. They pride themselves in professional development opportunities made available to employees, their performance management process, and the quantifiable impact of their employee development initiatives on the organization.
Purchase the book to get the full story on VISTAtsi, along with other stories from inspired executives who are focused on providing a meaningful, high-performance work environment along with innovative professional development opportunities for their employees.
VISTAtsi is an employee-owned management and IT consulting firm that supports large organizations in setting priorities for maintaining and getting the most from their real property asset portfolio. We are experts in managing data from an array of different sources, validating and analyzing that data and putting in place custom and COTS tools that give clients the ability to respond to it in a meaningful way. Our database, business intelligence visualization and real property planning and analysis services support decision-making at the highest levels and help organizations get the greatest value out of money spent on buildings, land and infrastructure.
Results matter. Expect more. Choose VISTAtsi.
To learn more, visit http://www.vistatsi.com.
About Helios HR
Based in Reston, Virginia, Helios HR provides outsourced human resource services that create unique human capital management solutions to attract, retain, develop and engage the kind of employees your organization needs. With client-centric methodologies, processes and solutions that fit your specific needs, Helios is dedicated to unleashing the potential of your workforce.
About the Apollo Awards
The Helios HR Apollo Awards have been inspired by the innovative practices of employers in the Washington metropolitan area as they create opportunity by investing in employee development initiatives.
###