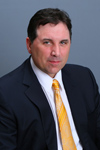 East Providence, RI (PRWEB) June 04, 2011
Benefit Concepts, Inc. announced today that Tony Trapuzzano has recently joined the company as Regional Sales Manager covering the Mid Atlantic States. In this new role Mr. Trapuzzano will be responsible for the distribution and management of the benefits administration outsourcing services offered by Benefit Concepts. Mr. Trapuzzano has established an office in Washington, Pennsylvania to service clients located in Pennsylvania, Ohio, Delaware, DC, Virginia and West Virginia. In this capacity Tony will be working with both prospective end user clients and the broker/consultant community. Today new clients are split about 50/50 between those who are referred to Benefit Concepts by their broker/consultant and those who work with Benefit Concepts directly.
Tony's home is in the Pittsburgh area and prior to joining Benefit Concepts Tony spent 20 years selling both benefits administration services and group insurance products as a broker/consultant and as a carrier representative. Tony is a graduate of the California University of Pennsylvania and has earned several certifications and licenses. The mid-Atlantic has been a rapidly growing market for Benefit Concepts and with Tony's arrival we expect that many new clients will begin to enjoy the world class services offered by our company. You can contact Tony directly at 724-222-4660 or through the company website http://www.benefitconcepts.com .
About Benefit Concepts, Inc.
Benefit Concepts, a leader in benefits administration outsourcing, is located in East Providence, R.I. For more than twenty years Benefit Concepts has been a provider of outsourced services including: COBRA/HIPAA Administration and Compliance, FSA/HRA Administration and more recently Active Employee Enrollment & Administration. Benefits Concepts' Total Benefit Administration solution provides both clients and participants with a single, state-of-the-art, web based portal from which they can manage any and all of their benefits administration tasks. Benefit Concepts employs more than 250 employees and services over 550 clients of a national scope including: Nokia, Tulane University, Dunkin Brands, Blue Cross of MA, Volkswagen N.A., and Chubb & Sons.
###