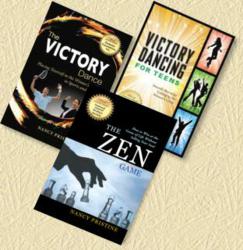 (PRWEB) June 04, 2011
"The Zen Game" by Nancy Pristine has been selected the winner of the 2011 Indie Excellence Award in the category of Relationships and as a finalist in the New Age, non-fiction and Self Help: Motivational categories. In addition, Nancy Pristine's book, "The Victory Dance," was a finalist in the Motivational and Self Help: Motivational categories.
The Indie Excellence Awards are reserved for the "best of the best" in books published in various genres. The criteria for recognition are stringent and include overall excellence in presentation. This award celebrates the highest achievements in independent press and self-publishing, a sector of the industry that has grown exponentially in recent years.
Winners and finalists were announced on Sunday, May 15. For a complete list of the honorees visit: http://www.indieexcellence.com/indie-results-2011.htm.
"The Zen Game" by Nancy Pristine is built upon the 8 fundamental teachings of the Buddha and is the key to success when dealing with all people, personally, socially and professionally. Pristine takes the noble eightfold path and applies it to common situations of everyday life with wit and great insight.
"The Victory Dance" by Nancy Pristine is packed with celebrity quotes and testimonials and is a toolkit for transformation. Pristine's victory dance technique uses color, music, visualization and positive affirmation to retrain your brain to eliminate self-sabotage and function at your peak. Her easy-to-follow directions instruct readers to create their own unique soundtracks – a personal selection of music that can motivate, stimulate or relax them depending on the situation.
Today, Nancy Pristine generously presents herself as "Your Happiness and Well-being Ambassador," utilizing the wisdom she has gained as a life coach and neuro-linguistic practitioner. Pristine changes lives with her weekly radio show every Tuesday from 4 to 5 PM EST on Wifi 1460 AM in Central NJ and Philadelphia. The Nancy Pristine Show can also be heard around the world at wifiam1460.com. Every week, Pristine interviews celebrities, luminaries and experts in their field. Her intention is to empower her listeners and to "Never settle for second best again!"
###