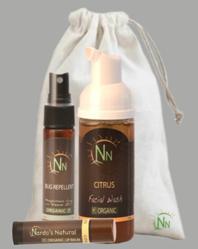 Clearwater, FL (PRWEB) June 07, 2011
Women, men, and kids on the go will love the new Summer 3 Pack from Nardo's Natural Organic Skin Care.
This skin care travel kit contains Bug Repellent, Face Wash, and Lip Balm. Best of all, the products are free of alcohol, parabens, synthetic preservatives, chemicals, dyes, fragrances, and artificial coloring. The organic products are packaged in an eco-friendly drawstring cloth bag… great for weekends away, camping, boating, beach days, travel, outdoors and more!
Here is information on each of the three products:
1. Nardo's Natural Bug Repellent (1 oz.) keeps mosquito bites away – without chemicals. The all-natural blend includes Neem Oil, Lavender Oil and Citronella Oil. Just a few sprays of this fresh-smelling organic bug repellent across your body and you'll keep the insects away when it's time to play!
2. Nardo's Natural Citrus Face Wash (1.8 oz.) is great for all skin types. The foamy cleansing agent is packed with essential vitamins that promote softer, healthier skin. The herbal infusions of purified ingredients are hypoallergenic and cleanse deep beneath the skin surface. The citrus provides natural astringents to tighten and tone the skin.
3. Nardo's Natural Citrus Lip Balm (.15 oz.) is a unique blend of Organic Shea Butter, Coconut Oil and Natural Beeswax that helps protect your lips from harmful UV Rays and the fierce elements. The citrus is naturally extracted from lemon and orange peels. Contains no artificial flavoring or FD&C coloring.
The kit is available for $24.99, from http://www.NardosNatural.com.
About Nardo's Natural: Nardo's Natural is a family owned and operated business located in Clearwater, FL. Products are hand-blended using premium organic ingredients. The company provides a safe alternative for daily skin care and offers products ranging from moisturizers to scrubs, lip balms and more. Learn more at http://www.NardosNatural.com.
###