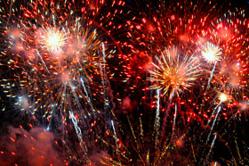 "Besides great country act, fans will have great seats to view the largest fireworks display in the Valley, that will keep everyone on the edges of their seats,"
Salt River Pima-Maricopa Indian Community (PRWEB) June 03, 2011
The Independence Day Music Festival and fireworks show at Salt River Fields at Talking Stick will brighten the sky on Sunday, July 3rd, 2011. Nashville recording artist and star of NBC's new hit TV series The Voice, Blake Shelton, will headline the show. Joining Shelton will be FOX's own American Idols; Crystal Bowersox and Casey James. Following the concert, the Valley's largest Independence Day fireworks shows will take place.
Fireworks Productions of Arizona (FPA) is proud to be partnering with Salt River Fields to produce the largest fireworks show in the Valley this Independence Day. The show will feature an awesome display of over 1,300 fireworks that will last nearly 20 minutes. Spectators will be awed by the special shapes and dynamic patterns as part of the only show in the valley that is permitted to use the much larger and more dynamic six inch shells over the 4th of July weekend. "Besides great country act, fans will have great seats to view the largest fireworks display in the Valley, that will keep everyone on the edges of their seats," say FPA Pyro Production Manager Kendon Victor.
FPA is the original fireworks company in Arizona and has been providing fireworks entertainment to the state for over 50 years. FPA produces between 400 and 500 shows a year, with nearly 70 of those shows coming over the 4th of July weekend.
Gates for this event will open at 5:00 pm with live music kicking off at 6:30 pm when former American Idol contestant Casey James takes the stage. Fellow Idol star Crystal Bowersox will follow James at 7:35pm, with country music star Blake Shelton taking the stage at 8:45pm. Arizona's largest fireworks show will follow Shelton. Ticket prices start at $15 and can be purchased online at saltriverfields.com.
About Salt River Fields at Talking Sticks
After experiencing the most successful Spring Training season in MLB history, with 359,308 fans coming through the gates to watch the Arizona Diamondbacks and Colorado Rockies, Salt River Fields is excited to break into the concert scene and provide fans a unique opportunity to see a show in the East Valley.
Salt River Fields at Talking Stick is located on a 140-acre site near the Pima-Loop 101 Freeway and Indian Bend Road. It is the first Major League Baseball Spring Training facility built on Native American land. Surrounded by some of the most beautiful views in all of baseball, the complex is owned by the Salt River Pima-Maricopa Indian Community (SRPMIC) and is the newest entertainment venue included in the "Talking Stick" brand as it joins Talking Stick Golf Club and Talking Stick Resort.
For more information about future events at Salt River Fields, please call 480.270.5000 or go to saltriverfields.com.
# # #