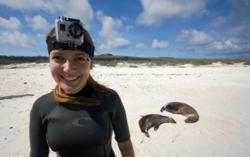 The video contest ends on Sunday 5th
(PRWEB) June 04, 2011
There has been a great response to Metropolitan Touring's video contest. The company is giving away a dozen cruises in all for the competition which asks people to make a video called "Why I want to travel to the Galapagos Islands"
The videos can be viewed at http://www.youtube.com/user/GalapagosContest.
The videos chosen by the jury on Monday will go into a final, when the one with the most views will win top prize of a cruise for four people aboard the company's M/V Santa Cruz (http://www.santacruzgalapagoscruise.com), one of the most highly-regarded boats in the Galapagos archipelago, Ecuador.
The competition has drawn all sorts of entrants, from retired teachers to past passengers, from young kids to nature lovers. All are hoping to win the competition and travel to one of the world's top natural-history destinations with Metropolitan Touring.
Participants can upload their 1-minute videos to http://www.GalapagosContest.com until Sunday 5th June.
Metropolitan Touring is also giving away more cruises in other ways. On Facebook, they are giving one of their fans a free Galapagos cruise every week. Just "like" them on http://www.facebook.com/MetropolitanTouring and fans go into the prize draw.
On Twitter, Metropolitan Touring is asking that people tweet "Galapagos is extraordinary because..." using #galapagosc. The company's favorite tweets will go into a final every other week and a winner chosen by retweets. Get tweeting!
###