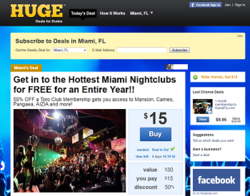 "We just think about what we'd like to do, where we like to go, and we get those specific deals ... and our customers love it!" Michael "Zappy" Zapolin said.
Miami, FL (PRWEB) June 02, 2011
While sites like Groupon and LivingSocial fight it out to be the deal sites to the masses, Huge.com is focusing on the specific task of finding deals that guys really love. The deals they are finding for men range from extreme adventures like driving a race car or sky diving to deals on car stereos, cross fit/MMA training and discounts to the hottest clubs in Miami.
"We just think about what we'd like to do, where we like to go, and we get those specific deals...and our customers love it!", said Michael "Zappy" Zapolin, Founder and well-known Internet personality. Zapolin was recently a featured speaker on Social Media at the Milken Global Conference and interviewed by US News, where he predicted the future of social media and deal sites would be won by the companies focused on niche segments. "Just like the dating space that was dominated by large players like Match.com and eHarmony, the next wave of winners focused on the niches, like JDate and ChristianSingles." Zapolin said.
Zapolin went on to say, "Our deal team is overwhelmed with businesses who want to tap into our unique audience. Our job is to pick the most exciting opportunities and fight for the best prices. We're already backlogged on deals for the next few months, and the offerings keep getting cooler and cooler."
Miami residents have seen the Huge.com billboards around the city, most notably on 395 heading into South Beach, and on 826 as they drive their morning commute. "Huge.com is an impossible-to-forget brand that we originally thought would become known to every guy in Miami. As it turns out, 50 percent of our customers are women buying really cool gifts for their guys," Zapolin said.
Huge.com's latest deal is a membership card that gets guys into all of the hottest clubs in South Beach for free. "We're giving guys the all-access they want at the coolest clubs like Mansion, Cameo, Pangaea, AIZIA and more, it's a win-win for the guys and the clubs," Zapolin said.
Next time you think about getting into a hot club, or finding cool things to do with your buddies, think Huge.com!
###