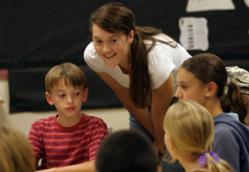 Portland, OR (PRWEB) June 03, 2011
Adults interested in becoming a teacher in Oregon have until the application deadline of Friday, July 1, to apply for the fall cohort offered by George Fox University's elementary education degree program.
Classes are offered at both the university's Portland Center near Tigard, Ore., and at its Salem Center location. The summer schedule begins on Aug. 30 and is designed to accommodate the schedules of busy adults, with classes meeting one night per week and one Saturday per month.
The program will be offered in Portland for the first time with the organization of the fall 2011 cohort. Plans call for the program to alternate between its Portland and Salem locations each year.
The 41-credit-hour major offers course work that prepares students to apply for the Initial I Teaching License, with authorization to teach in Oregon's public and private schools at the early childhood (age 3 to grade four) and elementary (grades 3-8) levels. Students also have the option of adding an English for Speakers of Other Languages Endorsement, which requires an additional 11 semester hours of course work.
Many classes are offered in a hybrid format, combining online and in-class formats. The curriculum also includes opportunities to work in the field, sending students into elementary schools to provide quality student-teaching experiences.
Among the admission requirements is the completion of 62 semester hours of transferrable credit made up of general education and electives and passing scores on either the California Basic Educational Skills Test (CBEST) or Praxis 1: Pre-Professional Skills Test (PPST).
Those who enroll are part of a small, supportive cohort consisting of no more than 20 people. Major classes are completed with the same group of students, allowing colleagues to provide motivation and support through the process. Students typically complete the degree in five semesters.
To learn more about the program, including cost and admissions information, contact admissions counselor Kristie DeHaven at 503-554-2266 or visit the university's adult degree programs website.
George Fox University is ranked by Forbes as the top Christian college in the Pacific Northwest and among the top three Christian colleges in the country. George Fox is the only Christian university in the Pacific Northwest classified by U.S. News & World Report as a first tier national university. More than 3,400 students attend classes on the university's campus in Newberg, Ore., and at teaching centers in Portland, Salem, and Redmond, Ore., and Boise, Idaho. George Fox offers bachelor's degrees in more than 40 majors, degree-completion programs for working adults, five seminary degrees, and 11 master's and doctoral degrees.
Contact:
Kristie DeHaven
Admissions Counselor, Elementary Education Program
503-554-2266
###