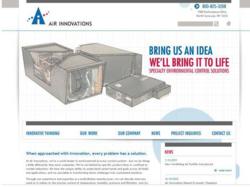 We think we've developed a high-end site that truly showcases capabilities of the organization.
Syracuse, NY (PRWEB) June 07, 2011
Highlighting the numerous and varied capabilities of Air Innovations (AI) in an interesting, easy-to-navigate website was one of the environmental control system company's objectives when it redesigned its corporate platform recently. Creating the new website was a challenge because as the company has grown, traditional lines separating AI's divisions had become blurred. So AI decided to focus less on the specific products it designs and manufactures and more on the fact that Air Innovations has the capability and experience to custom-tailor air conditioning, temperature, pressure and filtration solutions (HVAC) for just about any process control need, in just about any industry.
The flexibility to meet client needs is illustrated by flash-animated stories on the homepage and other primary landing pages of the site. "We think we've developed a high-end site that truly showcases capabilities of the organization," said Cheryl Gressani, director of business development. "To do so, we spotlighted environmental control projects across a range of industries in mini-case studies. We felt this was the most effective way to tell our story and encourage potential new clients to call us with an idea. Chances are, we'll be able to create the right solution for them."
Syracuse-based marketing communications agency Pinckney Hugo Group partnered with Air Innovations on this project.
Air Innovations is a leader in specialty air conditioning, refrigeration and environmental control solutions for original equipment manufacturers around the world. The company's systems are custom designs that feature close tolerance control of temperature (to 0.01°C), humidity control (to 0.5% stability), filtration, and pressurization, and can be configured into a variety of spaces. Products are design/built for customers in such industries as: aerospace, military; homeland security; pharmaceutical; medical devices; R&D; and, electronics.
Air Innovations' branded products include: Wine Guardian® wine cellar cooling systems for homes and commercial use; Floratech®, refrigerated floral displays for the supermarket industry; IsolationAir®, portable contamination control units for hospital use; and, HEPAiRx®, ventilating room air purifiers, AI's newest patented product, which reduces the airborne triggers that can cause respiratory distress.
In 2010, Inc. magazine named AI the 113th fastest growing privately held manufacturer in America. The company celebrates its 25th year in business later in 2011.
Have a look. Visit http://www.airinnovations.com. Email info(at)airinnovations(dot)com. Or call toll-free in the U.S. and Canada 800-825-3268 (other international callers: +1 315-452-7400).
# # #