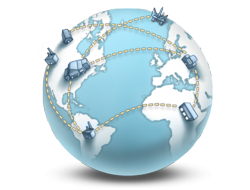 Businesses have been looking for a website like this since the first company to create a fan page
Miami, FL (PRWEB) June 03, 2011
Everybody wants to talk about how good social media is for businesses, and while it is absolutely true, I've got news for you: the traditional social outlets that businesses use to promote themselves are clearly flawed. In fact, the main websites that businesses rely on for social marketing aren't even designed for companies to use at all.
Setting up company pages on Facebook, Twitter and LinkedIn has become standard practice for companies trying to take advantage of the social phenomena. By design however, these websites are not structured for commerce. Facebook was built to make communication in our personal lives more efficient. Twitter was intended for status updates amongst people and celebrities while LinkedIn is mainly used for professional networking.
Though faulty, there are advantages for businesses to use these traditional websites for promotion and many companies have found success using them. The main reason companies use these sites is to keep track of what people are saying about their products and services. Monitoring what people are saying however, is not the best use of social marketing; lead generation is, and that is something not optimized on sites like Facebook, Twitter and LinkedIn.
And then there are promising innovations like the new business social network MerchantBook.com, whose creators are reporting some massive leaps in the effectiveness of social media marketing for businesses. The company leverages the advantages of social media, namely creating a channel for real-time communication amongst businesses, and in addition, allows companies to post all of their products and services to MerchantBook's "social supply chain."
That means that companies set up a profile on the website as a business and can liberally market all of their products, services, and even any real estate the company sells. The objective, according to Javier Formoso, co-founder of MerchantBook, is to "create an online community for businesses to advertise and market their products and services for free while simultaneously giving companies the ability to search within the supply chain for cheaper distributors and service providers on a global level. In the network, companies can be 'followed' by other companies, as well as end-consumers, and even create groups and events to attract new customers."
MerchantBook's philosophy is more of an evolution than a revolution. Businesses have been looking for a website like this since the first company to create a fan page. The basic idea is to digitize the real world marketplace and let businesses compete online on a social platform. Today, companies pay thousands, and in many cases, millions of dollars for advertising; adding the "free" factor for MerchantBook gives the company a huge competitive advantage over traditional marketing outlets.
A problem that seems to have been addressed by MerchantBook, and one unresolved otherwise, is that businesses need a real-time medium to facilitate business-to-business transactions. Companies use sites like Facebook, Twitter and LinkedIn to reach customers, but the overwhelming majority of the people that use sites like those are end-users of products and services. What about the manufacturer that wants to target and advertise to wholesalers, or wholesalers that want to find and compare several manufacturers? What if businesses are the customers? Consumer-driven websites like the ones mentioned earlier can't help. MerchantBook on the other hand, facilitates both business-to-business and business-to-consumer advertising.
René Lacerte, founder and chief executive of Bill.com says, Facebook "is so consumer dominated that it takes time to find a voice that cuts through what's already out there."
True to its claim of being a social network, Merchantbook has a news feed, a profile system, a rating system, the ability to create groups and events, and the capability for companies to "follow" each other and be followed by consumers as well. To satisfy businesses, MerchantBook adapted the features of traditional social networks and geared it towards creating profitable opportunities for companies. For example, the news feed is the place for companies to receive potential opportunities for them to negotiate a sale or to find work. It is based on 'Buying Leads' that other people, businesses and end-consumers included, post. If a company matches the requirements for a buying lead, that lead is automatically posted to their news feed as a potential sale.
By monitoring the news feed and contacting leads directly, companies can get clients on a global level and increase sales. Companies can also leave comments or ask questions on any company's wall or send them private messages. If a connection is made, businesses can rate sellers post-sale.
"What we did was redesign the social network and optimized it for businesses to use. We also redesigned the contemporary supply chain and made it social. Businesses can compete more effectively now by interacting with other companies and advertising for free in a way that has never been done before," said Mr. Formoso, co-founder of MerchantBook.
# # #