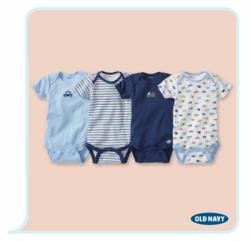 We are excited about our partnership with Old Navy!
Greenville, SC (PRWEB) June 08, 2011
Gerber Childrenswear LLC announced today its integration of an 'exclusive print assortment' of Gerber Brand essentials for baby into select Old Navy stores across the United States. The line includes Gerber Onesies® brand one piece underwear, sleep 'n play one-pieces and accessories for baby, sizes ranging from birth to 24 months and all priced under $15.
"We are excited about our partnership with Old Navy," said Gary Simmons, President and CEO of Gerber Childrenswear LLC, a leading marketer of children's apparel and related products. "It's a great opportunity for us to expand the Gerber brand apparel presence into another channel of distribution in the marketplace."
Old Navy is known for its ability to provide on-trend fashions at great prices and a fun shopping experience for its target customer and her family. To continue this effort, Old Navy will offer a Gerber brand exclusive line in more than 700 stores nationwide as part of its existing newborn and baby collections.
To celebrate the launch, members of Gerber Childrenswear's Real Mom Community will receive a 'limited time in-store offer' to save up to $10 on Gerber purchases made at Old Navy stores. Members simply go to http://www.gerberchildrenswear.com and register to download the special coupons. Offers expire June 30, 2011.
Gerber Childrenswear launched the Real Mom Community in 2010 as a place for moms to connect and support one another. Joining gives moms access to exclusive Gerber Childrenswear promotions / contests and money-saving coupons. "The Gerber brand has been trusted for more than 80 years, and we are proud that our reach has extended to our Real Mom Community on Facebook. Our Real Mom members have embraced the community where like-minded moms can share ideas on swaddling a baby, offer potty training tips or just show off photos of their little ones," Simmons said.
About Gerber Childrenswear LLC
Gerber Childrenswear LLC is a leading marketer of infant and toddler apparel and related products, which it offers under its flagship licensed brand Gerber, as well as the trademarked Onesies® brand one piece underwear. Gerber Childrenswear, an affliate of Sun Capital, is headquartered in New York, N.Y. For more information, please visit http://www.gerberchildrenswear.com.
For media inquires please contact:
Connie Pence, Marketing Manager for Gerber Childrenswear LLC.
PR(at)Gerbercw(dot)com
# # #