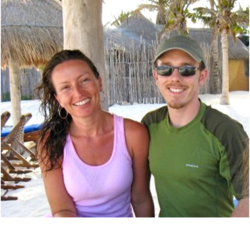 Mead and Weaverling are well known internationally for their innovative dance instruction
(PRWEB) June 03, 2011
Think warm tropical breezes, turquoise water and dancing with syncopated jungle rhythms. This third "Hot Salsa" dance workshop taught by San Francisco instructors Ryan Mead and Sidney Weaverling in Tulum, Mexico promises to be one of the best.
Timba, Cuban style salsa music, has many international influences such as jazz, rock, disco, funk and hip hop, as well as Cuban folklore dance like rumba, guaguancó, bata drumming and the sacred songs of Santería. There are a myriad of fusions in this workshop – San Francisco roots mix with Cuban influences, all with the tropical backdrop of a small Mexican beach town full of bohemian flare and an under–the-radar celebrity scene.
Mead and Weaverling are leaders in the Cuban Salsa community of the San Francisco Bay Area and well known internationally for their innovative dance instruction and strong emphasis on rhythm and musicality. Exciting dance performers themselves, they have performed at many Cuban salsa congresses in the Casino/Rueda style that is uniquely Cuban. Invigorating and stimulating, it is a high-energy dance where multiple couples change partners in a circle. Mead and Weaverling have also orchestrated performances at the San Francisco Carnival, bringing dancers of varying backgrounds and levels into a stunning array of fast paced and colorful dance forms. Further depth is added to their performances with Mead's strong musical background, anchoring their instruction in the music and breaking down the complicated rhythms of Timba. Weaverling's creative choreography and vibrant dance experience enmeshed in Cuban roots ensures highly technical yet accessible instruction for their students.
ZAMAS is the perfect venue for this dance workshop. With its hip beachfront style on the pristine shores of the Riviera Maya, it has enjoyed an eclectic and international clientele of fashion professionals, artists and actors, families, dot-comers and everyone in between. Owned and operated by two San Francisco natives, Daniel Vallejo McGettigan and Susan Bohlken, ZAMAS has a been a pioneer in bringing quality, live music to Tulum. Bands perform almost nightly during the high season, with many guest artists of international repute, including members of the famous Mexican rock band, Maná, and Hoppo, a new group led by Rubén Albarrán of Café Tacuba. The resident band is led by Camilo Nü who has performed internationally and is currently developing a documentary that follows his journey to discover the under-recognized African and Arabic influences in the roots of Mexican music.
Owner McGettigan is instrumental in bringing these groups to ZAMAS, a job made easy by the location he developed – with the backdrop of the Caribbean Sea, a rising full moon and an open-air stage on the beach, it is not difficult to attract guests to this beautiful locale with music filling the air. It is irresistible.
Every musician appreciates the visual of lively dancing to compliment his sounds; that is the Bohlken side of the equation. Drawn to salsa dancing by a small contingent in the Tulum community, she followed her passion to her hometown of San Francisco. Elated to find clubs in every part of the Bay Area, she quickly met many of the salsa community including Mead and Weaverling. Hence this salsa dance fusion — a mix of Cuban influence and Mexican tropical flare with San Francisco roots — was born.
Hot Salsa Dance Workshop, 16-24 July, ZAMAS Hotel in Tulum Mexico
Instructors Ryan Mead and Sidney Weaverling, teach partnering technique, movement and style with an emphasis on rhythm and musicality. All levels welcome. http://www.ruedaconritmo.com.
ZAMAS is a small beach cabana hotel situated on a strip of the Caribbean coast in Tulum, Mexico. Email: info(at)zamas(dot)com Website: http://www.zamas.com.
Group excursions may include swimming with the whale sharks, snorkeling in the caverns adorned with stalactites and stalagmites, and exploring ancient Mayan Ruins.
###