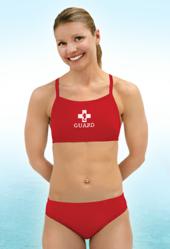 The Kiefer separates are especially nice because one can order a different size top and bottom, ensuring a perfect fit.
Zion, IL (PRWEB) June 08, 2011
This spring Adolph Kiefer and Associates, a prominent Midwest-based swimming supply company known for providing quality safety and rescue products at reasonable prices, has added a new two-piece lifeguard suit to its line of Kiefer swimwear. The swimsuit is ideal for pool and beach safety programs that would like to give their staff the option of a two-piece suit, while maintaining a budget-friendly uniform.
Available in red and navy, the new Kiefer AquaLast Guard Separates are a blend of PBT and polyester, providing a long suit life. The sporty cut and flyback style top are similar to other popular two-piece guard suits on the market. In addition, the Kiefer suit has individual model numbers for the top and bottom. This distinction gives customers the ability to order a different size top and bottom if need be. Another feature is the embroidered guard logo that will not wear or peel.
Perhaps the most alluring attribute of the Kiefer AquaLast Guard Separates is the price. With the top retailing at $24.95 and the bottom at $20.95, the Kiefer separates cost about 20% less than top competitors. Furthermore, facilities that purchase the suit in quantities of twelve or more receive an additional 12% discount.
Can something as simple as a swimsuit have an impact on a facility's budget? According to Kiefer, the answer is a resounding "yes." Facilities often prefer to purchase the same brand of swimwear for all safety staff. Product Manager Shelley Kiefer explains, "Until now pricier brand names were the only established suppliers of two-piece guard suits. So, if a facility wanted to offer its guards two-piece suits, they often had to choose a more expensive brand across the board. The dollars add up quickly when you are purchasing several suits."
When Kiefer was testing prototypes, wearers were pleased with the suit's comfort and fit. Amanda French, who was a lifeguard during her college career and is currently employed by Kiefer, commented, "Personally, I preferred wearing a two-piece suit when I guarded. I found it more comfortable. The Kiefer separates are especially nice because one can order a different size top and bottom, ensuring a perfect fit." Others who tried on the suit mentioned how some bikini styles are a little too revealing for a lifeguard situation. However, they thought that the cut of the Kiefer suit is both appropriate and flattering.
In addition to the new two-piece guard suit, Kiefer offers several one-piece guard suit styles for women. The Kiefer Guard Board Short and Kiefer Guard Deck Short are staple products for men. Kiefer also has a complete line of lifeguard apparel including guard shirts, sweatshirts, jackets, shorts, hats and visors. In addition to the Kiefer brand, Kiefer's mail-order catalog, e-commerce website, and retail stores also carry Speedo and TYR guard wear. Its extensive product selection has earned Kiefer the reputation of offering "everything but the water since 1947."
About Adolph Kiefer & Associates:
Gold medalist Olympic swimmer Adolph Kiefer founded Adolph Kiefer & Associates in 1947. As the official aquatics supplier to the 1948 U.S. Olympic Swim Team, the company introduced the first nylon swimsuit as a lightweight alternative to wool and cotton suits and a cost alternative to the silk suits of the time. Since then, Kiefer has provided the swim community with many innovative aquatic performance and safety products including the original Wave Eater racing lane, fully customizable starting platforms, lifeguard equipment and apparel, and a complete line of competitive swimwear and goggles. Today, Mr. Kiefer continues to dedicate his life to helping swimmers of all ages and abilities. The company sponsors a full calendar of competitive swimming events and is a top competitive swim team supplier.
###