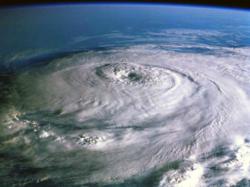 Hurricane coverage can only apply when a plan is purchased before the covered storm is named.
East Hartford, CT (PRWEB) June 03, 2011
The U.S. mainland dodged a barrage of weather bullets last year when it was mostly untouched by 19 named tropical storms, including 12 hurricanes that formed the third-most active Atlantic hurricane season on record. Several popular vacation destinations for Americans were disrupted by hurricane landfalls, including Puerto Rico and the U.S. Virgin Islands by Hurricane Earl, Bermuda by Hurricane Igor, Mexico by Hurricanes Alex and Karl, and Belize by Hurricane Richard.
This year, according to the National Hurricane Center at the National Atmospheric and Oceanic Administration (NOAA), the tropical storm and hurricane season is predicted to be only slightly less active than last. Prior to this week's June 1 start of the 2011 hurricane season, the NOAA predicted a year with between 12 and 18 named tropical storms, of which 6 to 10 storms are expected to become hurricanes and 3 to 6 of the hurricanes become category 3 or higher in intensity. Given that storm and hurricane activity last year ultimately mirrored almost the exact pre-season numbers forecast by NOAA, this year's predictions have gained noteworthy attention.
A tropical storm is identified and named when it achieves sustained winds of 39 miles per hour or greater, and the storm becomes a hurricane when achieving 74 mph sustained winds or greater. A major hurricane is declared when it reaches sustained winds of 111 mph or greater.
Travel Insurance to Prevent Hurricane Losses
Travel Insured International®, the leading independently-owned travel insurer, reminds travelers that trip insurance plans do not provide coverage for adverse weather claims due to a named tropical storm or its resulting weather patterns unless the plans are purchased before the date when the storm is named.
Travel Insured's Worldwide Trip Protector and Trip Protector Gold plans provide Trip Cancellation coverage when the insured is forced to lose 50 percent or more of his or her scheduled trip duration due to a covered Trip Delay reason. Defined reasons covered for Trip Delay include delay of a common carrier for six or more hours, including for inclement weather, or a delay due to a traffic accident en route to a departure, or a delay due to lost passports or documents, a hijacking, quarantine, or unannounced strike, or a natural disaster.
All of Travel Insured's plans under its Worldwide Trip Protector line can provide Trip Cancellation when weather causes complete cessation of the insured's common carrier for 24 or more hours. Trip Cancellation can also apply when a natural disaster renders the destination accommodations uninhabitable, or when the insured's primary residence is made uninhabitable by flood or other natural disaster within 10 days of a scheduled departure.
Trip Cancellation and Trip Interruption coverage in the Worldwide Trip Protector and Trip Protector Gold plans can apply when local authorities order a mandatory evacuation at the destination due to a hurricane and 50 percent or less of the insured's trip remains when the evacuation is over.
Cancel for Any Reason and Trip Delay
Cancel for Any Reason is the right option for travelers who want to cancel the trip when a storm is threatening but has not yet reached their destination. The option allows the insured to cancel up to 48 hours prior to his or her scheduled departure for any reason to receive up to 75 percent reimbursement of the non-refundable prepaid vacation costs.
Trip Delay benefits can apply when weather causes a minimum delay of either six or 12 hours depending upon the terms of the Worldwide Trip Protector plan purchased. The Worldwide Trip Protector and Worldwide Trip Protector Gold plans provide Missed Connection coverage that can protect if, as a result of a cancellation or delay for three or more hours of all scheduled flights due to a delay of a common carrier, the insured misses his or her cruise or tour departure. The Trip Protector Lite Expanded plan includes the same coverage for a common carrier delay or cancellation of all scheduled flights for six or more hours.
Fortunately, cruise ships are able to avoid the most damaging impacts of hurricanes by rerouting their itineraries to avoid the slow moving storms. The bad news is that changes of itinerary can cause scheduled port calls and land activities to be cancelled. Fortunately, for passengers who purchase Travel Insured International's Worldwide Trip Protector or Worldwide Trip Protector Gold policies, Missed Port of Call / Change of Itinerary coverage is included under Missed Connection. The coverage can reimburse any non-refundable costs when the cruise or tour supplier makes a change in the scheduled trip itinerary due to weather causing the insured to miss a prepaid, non-refundable activity that cannot be rescheduled during the course of the trip.
The unwanted visitors that could disrupt a vacation this summer or fall before hurricane season ends December 1st will have names like Cindy, Emily and Harvey, among others.. Having travel insurance in hand before any hurricanes are given these names is the right move before any of them move into your vacation destination.
About Travel Insured International®
Travel Insured International®, based in E. Hartford, CT, was founded in 1994 by the foresight of insurance industry executive Peter Gehris when he acquired the travel protection division of the Travelers Insurance Company. Coverage is underwritten by Arch Insurance Company (a Missouri corporation, NAIC #11150) with executive offices located in Jersey City, NJ. Arch Insurance is rated A ("Excellent") for financial strength by the insurance rating service A.M. Best. Not all insurance products or coverage is available in all jurisdictions. Coverage is subject to actual policy language.
Travel Insured International®
52-S Oakland Ave.
E. Hartford, CT 06128-0568
Contact: John Stone
Media Relations Manager
http://www.travelinsured.com
###