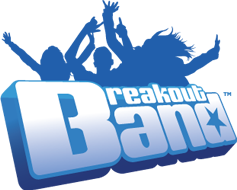 New York, NY (PRWEB) June 03, 2011
Starting today, music fans and those with pop star dreams can create original songs on BreakoutBand. BreakoutBand is the first social music game where anyone can become a recording artist, create songs and discover new talent. The website was designed for people of all experience levels.
As part of its public release, BreakoutBand has teamed up with Old Navy to create an Old Navy-themed song challenge. In the competition, artists can remix the song featured in Old Navy's most recent commercial or create their own original Old Navy-inspired song for a chance to be played in over 1,000 Old Navy stores. All songs must be created on BreakoutBand.com.
Every song in the competition will be released to the BreakoutBand-Old Navy Records Charts. One song will be named the grand winner through a combination of Facebook likes their song receives and Old Navy judges' scoring. The winning song will get airplay in Old Navy stores, while the top 5 songs will be featured on Old Navy's Twitter feed.
The contest runs Friday June 3rd – Sunday June 12th on BreakoutBand.com. Winners will be announced June 15th.
More about BreakoutBand:
Brooklyn-based BreakoutBand is designed for people primarily ages 13-25 interested in making music, regardless of experience. Artists on BreakoutBand become overnight music producers and singers using the company's proprietary web-based platform, which includes an interactive beatmaker and a multi-track vocal booth with pitchfix (the company's version of auto-tune – so anyone can be the next Ke$ha or T-Pain). Songs can be released to weekly charts, entered into competitions, shared with friends on Facebook and Twitter, and downloaded to iTunes.
The product speaks to a growing contingent of aspiring pop stars who have witnessed overnight stardom through American Idol, Glee and YouTube and desire an outlet to share their own voice in hopes of being discovered. BreakoutBand also appeals to a new generation of music fans for whom the consumption of music alone does not satisfy their needs and seek a more interactive experience.
###