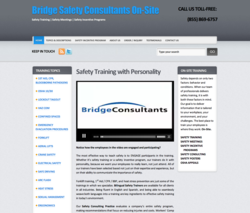 One of the most effective ways to show that safety is a priority to management is to implement an interactive safety incentive program.
(PRWEB) June 03, 2011
Physically demanding jobs in challenging work environments always result in injuries. There are simply too many things that can go wrong, and the body is far from indestructible. We can all accept these truths. What we should not accept is that nothing can be done about it. Safety Consultants On-Site is a unique safety company specifically looking to improve workplace safety.
How those jobs are performed makes a tremendous difference, and assuming training has been provided and the working conditions are free of obvious hazards, it all comes down to the attitude and the behavior of the workers. Any company that has a higher than average X-Mod, and a high frequency of injuries and near misses, needs to examine what they are doing to impact behavior.
Joe Stevens, Founder & President of Bridge Safety Consultants, says the business of his company is injury prevention. "After many years of observing workers in various industries, and studying the causes of injuries, it is crystal clear that the primary differentiator between companies with few injuries and those with too many is one thing, almost exclusively: Behavior. Careless behavior, unsafe behavior , and fraudulent behavior are the genesis of the vast majority of injuries and claims. Change the behavior, and you will change the company's safety record."
Think Attitude
What's the attitude that your employees have towards safety?
Are safety meetings viewed as a waste of time, something to be tolerated but devoid of real value?
Are signs and posters old, covered with dust, and largely ignored because they have been up so long?
Is the PPE kept up to date and replaced when necessary, or left to practically disintegrate?
Proof Statement
Everything a company does that relates to safety is a proof statement to the employee. How much does the company really care about safety? How much does the company really care about MY personal safety? Does the company care about me, and the other people who work here, or are we just filling a position and easily replaceable? Most employees receive enough safety training on-site, and know how to do their jobs safely. With few exceptions, the better job a company does at conveying the message to its employees that it really cares about them- and their personal safety- the better the morale and attitude will be. Behavior follows attitude.
One of the most effective ways to show that safety is a priority to management is to implement an interactive safety incentive program. We don't believe in bingo or magazine points; rather, monthly interactive meetings that have recognition and participation as their central core. They should be designed to show the workers that management is paying attention, cares about their safety, and is willing to reward results. Top management should attend the meetings, shake hands, applaud strong performance, and generally be very involved.
There is no doubt that a company with high morale, where the employees take safety very seriously, will have fewer injuries and claims than a company where the employees' attitude towards safety is more casual. There is no better way to demonstrate the company's commitment to the safety of their employees than through a well designed safety incentive program that focuses on promoting safe behavior and rewarding positive results. Everyone wins: fewer injuries, better morale, and lower costs.
About the author: Mr. Stevens is the Founder and President of Bridge Safety Consultants, based in the Los Angeles, California area. His company specializes in providing on-site safety training, safety meetings and safety incentive programs. Most engagements begin with a review and assessment of the company's current safety program, with recommendations to strengthen it.
Contact information: stevens(at)bridgeconsultants(dot)net http://www.safetyconsultantsonsite.com
Toll Free: 855 869-6757
###