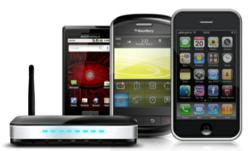 ...employee-owned mobile gear are the most risky devices that can be connected to corporate networks...
Bedford, MA (PRWEB) June 06, 2011
NetClarity, Inc., the leading provider of Next Generation (NG) Network Access Control technology in the marketplace today, on the heels of receiving the "Most Innovative New Security Product for 2011" award from InfoSec Products Guide, unveiled NACwall NG appliance family, which controls and manages access of both the corporate wired network and all untethered devices from a single solution.
According to Gartner's most recent Magic Quadrant Report on NAC, "When evaluating NAC solutions, look for vendors that understand the consumerization trend and support, or have plans to support, policies for managing the non-Microsoft endpoints that will inevitably attempt to connect to your network."
The new NACwall Next Generation (NG) appliances include the ability to detect, audit and quarantine the Blackberry, Droid and Apple operating systems for all commonly known vulnerabilities, without the need for software clients or agents, over the wireless networking interface of these mobile devices. In addition, the ability to quarantine one of these personal computing devices from spreading new "zero-day" malware is also done without any additional software being installed on them.
In a recent article published in NetworkWorld by Tim Greene, entitled Top Security Nightmares: Privately owned iPhones, iPads and other mobile devices, "IPhones, iPads and other employee-owned mobile gear are the most risky devices that can be connected to corporate networks, according to a new survey by ISACA, an international user group devoted to providing benchmarks and guidance for technology best practices." (source: http://tinyurl.com/mobilerisks)
"While the firewall does a great job protecting networks from external threats, more and more PDA phones and tablets are making it onto corporate networks, behind these firewalls – this is where our new NACwall NG excels – at securing these networks from the inside out, where these new devices roam," said Hal Charnley, president/CEO NetClarity, Inc.
About NetClarity, Inc.
NetClarity is the only provider of Next Generation Network Access Control technology and products in the marketplace today. We have been developing patented intrusion defense technology using industry standard protocols, since 2003. NetClarity sells a scalable suite of industry standard rack-mountable hardware appliances, known as "NACwalls," through channel partners and OEMs worldwide. NetClarity is located in Bedford, MA with offices in the Middle East, Europe, the United Kingdom and Asia. For more information, visit us at http://www.netclarity.net.
Google and Android are trademarks of Google Inc. DROID is a trademark of Lucasfilm Ltd. and its related companies. Used under license. NACwall is a trademark of NetClarity, Inc. All other company and product names may be trademarks of the respective companies with which they are associated.
###