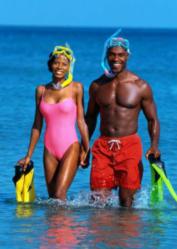 While everyone is welcome on our black cruises, we don't focus on the college party groups as some black cruise promoters do
Atlanta, GA (PRWEB) June 04, 2011
Black Cruise Club, a travel agency organizing black cruises, is attracting the attention of black vacationers nationwide. The company's website, BlackCruiseClub.com is promoting annual black cruises in which people from all over the country are invited to enjoy several days of fun and social interaction on the open seas. Destinations will include The Caribbean, as well as Europe and Alaska.
While Black Cruise Club is not the only company promoting black cruises, it is one of the only that also happens to be a professional cruise travel agency, so it knows the cruise business well. "An in-depth understanding of the cruise business is important for passengers who depend on us to handle the details of their cruise vacation", says Aubrey Williams, founder of Black Cruise Club. While some other black cruises are organized by small, independent event promoters, Black Cruise Club has the backing of a large franchise possessing the knowledge and resources to be more effective in the cruise industry.
Williams started Black Cruise Club to provide a better option for black cruises to young black professionals, as well as the black middle-aged cruise market and black retirees. "While everyone is welcome on our black cruises, we don't focus on the college party groups as some black cruise promoters do", says Williams. A broader focus caters to a wider range of people on these cruises, so you're likely to see young professionals, moms, dads, and grandparents, as well as singles and couples.
Another differentiating factor of Black Cruise Club is that it caters mostly to well-off black Americans. That being said, their annual group cruises lean toward the larger, nicer cruise ships as opposed to the older, smaller vessels. Black Cruise Club clients expect a more upscale experience, hence BCC's selection of only balcony staterooms on some cruises, rather than the lower-cost inside cabins that don't have balconies or windows. "Our clients can afford better choices, and that's exactly what they expect", says Williams.
While the name Black Cruise Club might imply that there's something to join, it's totally open to the public. At this time, formal membership is not a requirement, and association with the club is limited to "liking" its Facebook page – no cruise booking required.
About Black Cruise Club:
Black Cruise Club is a project of Cruise Holidays franchise owner Aubrey Williams. Black Cruise Club organizes annual black cruises on cruise lines such as Royal Caribbean, Holland America, Celebrity, Princess, Norwegian Cruise Lines, Carnival Cruise Lines, and more.
###