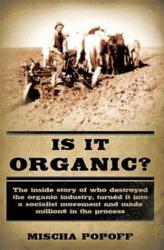 A tell-all inside story that surprises readers with the concept that what everyone thinks about organic food is mostly wrong.
Longwood, FL (PRWEB) June 20, 2011
Within the pages of Is It Organic? ($36.99, paperback, 978-1-61215-462-6; $9.99, eBook, 978-1-61215-703-0), a new Xulon Press title from author Mischa Popoff, is a story that will surprise readers with the assertion that what everyone thinks about organic food is mostly wrong. Popoff describes the comprehensive history of farming, warfare, and Western civilization from 1645 to the present. Building upon traditions established more than 350 years ago, people now have the option of choosing organic food, but is it really organic? Would it be more truly organic if the organic activists returned to their Christian roots? This book says such questions would be considered sacrilegious in today's organic-activist circles, but on the farms where the food is grown, the idea of reviving the Christian communion between man and God is much better received.
"The organic industry could be legitimate once again," Popoff says. "It began on a sound scientific basis, always with a fundamental allegiance to Judeo-Christian values. In fact, the most successful organic undertakings always rejected government involvement and were self-reliant. But this all changed in the late 1990s when a simple plan to include scientific field testing in the USDA National Organic Program was lobbied out of existence by urban, liberal, secularist activists."
Popoff holds a bachelor's degree in history from the University of Saskatchewan. She spent five years working across North America as an organic inspector, achieving the rank of advanced organic farm and process inspector. After 25 years of organic farming, Popoff can attest that the Christian principles are rarely upheld except by the devoted organic farmer.
Xulon Press, a division of Salem Communications, is the world's largest Christian publisher, with more than 8,000 titles published to date. Is It Organic? is available online through xulonpress.com/bookstore, amazon.com, and barnesandnoble.com.
###