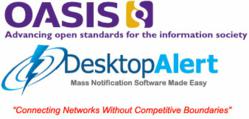 Early Warning System Information Sharing Across Similar or Disparate Networks/Domains Without Competitive Boundaries
Washinton DC (PRWEB) June 02, 2011
Desktop Alert Inc. a world class provider of Secure Mass Notification Systems (MNS) today announced that it has received a letter of commendation from OASIS (Organization for the Advancement of Structured Information Standards). The Consortium hosts two of the most widely respected information portals on XML and Web services standards, Cover Pages and XML.org. OASIS Member Sections include Blue, CGM Open, COSL, eGov, Emergency, IDtrust, LegalXML, Open CSA, and Telecom.
"The letter of appreciation was greatly appreciated. Our clientele are excited about the current CAP Protocol capabilities and look forward to bigger and better advancements with the OASIS Emergency Management Technical Committee. The Common Alerting Protocol is becoming more and more common with numerous government and military agencies. Aside of the wonderful work being accomplished at OASIS the key behind the advancement of the Common Alerting Protocol is that commercial-off-the-shelf vendors (COTS) no longer have a basis for blocking critical information sharing, especially during an emergency. CAP servers are secure, opt-in and adhere to a well defined and strict protocol. This bolsters early warning readiness scenario activation with rapid actionable intelligence across competitive boundaries and gives the customer the control in what they both publish and receive", said Howard Ryan, CEO and Founder Desktop Alert Inc. "2010 featured the Common Alerting Protocol (CAP) 1.2 Approval as OASIS Standard. In this OASIS 2010 press release, numerous OASIS members such as AtHoc, Desktop Alert, U.S. DHS Science and Technology Command, U.S. DHS FEMA National Continuity Programs, U.S. DHS FEMA IPAWS Program Management Office, WSI and others promoted and pledged interoperability across a myriad of communication channels as being the key for successful alert dissemination to all targeted populace during an emergency. This type of critical alert/information sharing and cooperation between disparate agencies and competing commercial-off-the-shelf (COTS) vendors is significant and critical to military agencies and first responders worldwide during an emergency. Desktop Alert is proud to be a contributing member to the process" added Ryan.
About Desktop Alert, Inc.™
Worldwide U.S. Military organizations such as The United States Air National Guard, The United States National Guard, The United States Air Force Academy, The United States Military Academy at West Point, Multi-National Forces in IRAQ, The U.S. Air Force, and The U.S. Army now utilize the DTA mass notification platform daily for their organizations emergency communication requirements. Desktop Alert can contact thousands of computer users at their desktop and require them to click to confirm receipt of the message flashed on their screen. Those not verified can then be listed on a report and/or sent as a "Target Package" to be automatically contacted by other means such as email, SMS, phone calls and other devices.
# # #