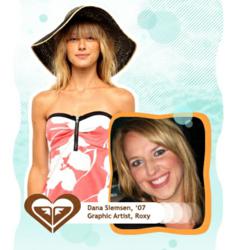 Los Angeles, CA (PRWEB) June 04, 2011
California is known for its surf and skate culture, both of which influence summer fashion trends in a big way. Close to the headquarters of some of the biggest action sports companies in the industry, two of FIDM/Fashion Institute of Design & Merchandising's four campuses are in Orange County and San Diego, and graduates of the fashion school work at many of these amazing places, including Roxy, Vans, O'Neill, Volcom, Hurley, Oakley, Rip Curl...the list goes on!
The action sports industry is filled with innovative people who embrace life all the way! Jack O'Neill invented the wet suit in Santa Cruz in 1952. Since then, O'Neill has grown into a huge company, with their apparel headquarters in Irvine, California.
Working at O'Neill is FIDM grad, Whitney Morris, now a senior design director for O'Neill Girls. "At our offices we have a basketball court, a gym, a photo studio, skate ramps, and an actual retail store, so the vibe is great. I have worked at other companies within the fashion industry and I never realized until I entered the action sports industry, what I was missing out on...There are parties and events constantly and special perks that I've never had at other companies, like half-day Fridays in the summer!"
Skateboarding is another sport synonymous with Californian culture and summer style. In 1966, the Van Doren Rubber Company started making shoes in Anaheim with a sticky waffle grip, perfect for skateboarding. By the end of the 1970s, Vans had become a household name.
Taylor Polidori, who earned her graphic design degree from FIDM in 2006, is a product developer for the Men's Core Apparel Division of Vans, now based in Cypress, California. She says skateboards are used to get around at the company. "The vibe is really free-spirited and fun even within the corporate make-up. I feel like if you were to walk into Vans after working at, let's say Prada, you would feel the reflection of California's culture—slower paced, smiling faces, and a more laid back dress code."
Huntington Beach is home to Quiksilver's global headquarters. The company was founded in Australia in 1970 and is credited with designing the first technical board shorts. Roxy was launched over 20 years ago under the Quiksilver umbrella.
"I love that I get to drive along PCH everyday to get to the office in Huntington," says FIDM grad and Roxy graphic artist Dana Siemsen, trained in Graphic Design. "It is a very relaxed environment. Getting to wear whatever you want to work is a major plus. People skate through the office and leave at lunch to take surf breaks. There are always activities going on and teams you can join."
"The surf industry here in So Cal is like a small community of its own," Dana shares. "There are always less than six degrees of separation between you and somebody else in the industry." Many graduates of FIDM's Visual Communications program are also working in the industry, styling photo shoots and commercials and influencing trends.
With four dynamic California campuses in Los Angeles, San Francisco, Orange County, and San Diego, FIDM/Fashion Institute of Design & Merchandising is the premier west coast fashion design college, educating for careers in fashion, graphic design, interior design, and entertainment. FIDM's graduates include renowned fashion designers like Monique Lhuillier, Emmy® and Academy Award® award-winning costume designers, top fashion industry executives, and entrepreneurs.
###