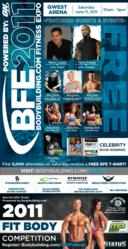 "The BFE just keeps getting bigger and better every year! When Bodybuilding.com throws an event they pull out all the stops." - Bodybuilding.com Spokesperson, Jamie Eason
Boise, ID (PRWEB) June 03, 2011
The 10th annual Bodybuilding.com Fitness Expo (BFE) has become a celebrity studded event with top A-List stars flying in to join the health and fitness celebration. Terry Crews (Hollywood actor featured in over 40 different movies and television shows including The Expendables and "Everybody Hates Chris") and Mario Lopez(best-selling author of Extra Lean and top television personality as a host on "Extra!") are just two of the many reasons to attend this free, fan-favorite event.
Bodybuilding.com, the Internet's most-visited bodybuilding and fitness site and largest online retailer of nutritional supplements, and Optimum Nutrition, one of the world's most trusted performance nutrition brands for 25 years, will be holding the action packed BFE on Saturday, June 11th from 10:00am to 5:00pm at Qwest Arena in Boise, Idaho. The 2011 FIT BODY Competition Powered by MusclePharm will take place after the BFE at 7:30pm (doors open at 6:30pm) at the Knitting Factory. The crowd will watch as the nation's top 20 men and women battle it out for the title of the "Fittest Body". If you haven't been before, be assured: this is more than your average show.
In addition to Terry Crews and Mario Lopez, the BFE will be featuring: MMA athletes Clay "The Carpenter" Guida (UFC Lightweight Star) and "All American" Brian Stann (UFC Middleweight Star and Marine Silver Star recipient); Jamie Eason (featured on over 50 magazine covers worldwide and syndicated columnist with Oxygen Magazine); Mike O' Hearn (Titan from NBC's "American Gladiators"); Jimmy Peña (celebrity trainer and best-selling author of PRAYFIT); pro bodybuilders Johnnie Jackson, Hidetada Yamagishi, and Rita Rae; strongman Brian Shaw (winner of 2009 World's Strongest Man Super Series); figure, fitness and bikini pros; plus even more surprise guests.
There will be plenty of action and things to do with Pogo-Sticker Buff Hutchinson attempting an official "Guinness World Record", the annual Mr. Puniverse Competition (where being puny is in), competitive eating competitions, a Bench Press Competition, Crossfit Contests, Strong Man Feats of Strength, a BMX Demo, celebrity book signings, and a special guest presentation by Pro-Wheelchair Bodybuilder Nick Scott, as well as other surprise acts. There is something for everyone!
Make sure to grab samples of the newest supplements provided by over 50 different manufacturers including: MuscleTech, BSN, Ultimate Nutrition, Scivation, Gaspari Nutrition, VPX Sports, Universal Nutrition, Cytosport, TwinLab, Champion Nutrition, MRM and others. Not to mention, you will receive fun Bodybuilding.com merchandise, including the 2011 BFE T-shirt given away to the first 5,000 people in line.
Bodybuilding.com knows how to put on a show, and the best part is, it's all free.
For more information, please go to http://www.Bodybuilding.com/BFE2011.
Bodybuilding.com offers more than 13,000 health & fitness supplements and accessories to help more than 7.5 million people every month achieve their health, fitness and appearance goals, as well as over 35,000 pages of free information, including more than 20,000 articles and videos, expert online trainers, and new content added daily.
For more information: http://www.bodybuilding.com
Contact: Crystal Matthews
Email: crystal(at)bodybuilding(dot)com
Phone: 208.472.9311
###