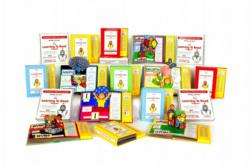 Children who embrace multi-sensory learning become better readers.
Atlanta, GA (PRWEB) June 08, 2011
Charter3D, LLC is pleased to introduce a revolutionary reading program for dyslexic children. The Learning to Read Program is the first of its kind to use multi-sensory learning to remove the reading and writing roadblocks associated with early childhood reading disorders. Developed by inventor and fellow dyslexic Bill Allen across 15 years of tutoring children, The Learning to Read Program shuns traditional phonics-based memorization for hands-on, visual 3D learning of 270 abstract words and characters that cause reading hesitation.
"Children who embrace multi-sensory learning become better readers", said Allen."Traditional methods are proving ineffective for many troubled young readers suffering with dyslexia and other reading disorders. Unfortunately, phonic memorization does not work for visual learners, as people with dyslexia primarily think in pictures. These children need to visualize the meaning of a word to comprehend what they are seeing, which is why the simplest of abstract words like 'the' and 'was' cause dyslexic children to give up reading."
Charter3D's unique reading program has achieved an unprecedented 95% success rate by enabling children to visualize the words, letters and punctuation symbols that cause reading hesitation. The content is focused to appeal to ages 6 through 11, though the program has proven effective with all ages, and the 13-volume set of books is designed specifically to:

provide kids an engaging and fun learning environment
eliminate dyslexia-related learning disabilities
build children's confidence and self-esteem
improve K-6 academic performance
work in as little as 1 to 3 months
Five components enable dyslexic children to achieve reading fluidity with The Learning to Read Program:
1) Abstract (stumble) words are simplified ensuring children quickly grasp the 270 abstract words and characters that cause the most trouble for young readers.
2) Words are made 3D with raised, textured letters offering children the tactile learning needed to comprehend and retain reading and writing lessons.
3) Multi-sensory stimulation with entertaining pop-up art provides an engaging, visual story to help children experience each abstract word.
4) 2D concepts are clearly explained using an audio panel that plays the sounds, spelling and meaning of highlighted words.
5) MELT (Mind's Eye Learning Techniques) training techniques explain how to use a 3D learner's big picture thinking to master the most difficult abstract words.
Frustrated by reading remediation programs costing over $3,000 per week, Allen designed The Learning to Read Program to be a cost-effective solution for most any family dealing with a dyslexic child. Priced online for under $500 for the set (or individually for less than $40 per book), Charter3D's program is proud to be one of the lowest cost dyslexia treatments available for young children today. And with the release of Undoda for the iPhone, iPad and iPod touch (available for $1.99 in the iTunes App Store), Charter3D has commissioned many of the same proprietary, multi-sensory teaching methods powering The Learning to Read Program into a universal learning app and illustrated storybook appropriate for all children (with or without reading disabilities) using one of Apple's popular iOS mobile devices. Allen believes introducing multi-sensory learning to a broader audience not only benefits the reading comprehension of any child playing the app, it also helps remove the perceived stigma associated with professional dyslexia treatments.
"I've been fortunate to help thousands of families solve reading disorders through one-on-one tutoring, but my ultimate goal is to inform the world of how 3D multi-sensory learning, when focused on just 270 of the most commonly used abstract words and symbols, significantly improves reading comprehension and the symptoms associated with childhood dyslexia," said Allen. "For that to happen, a viable solution must do two things without question: 1) actually work and 2) remain affordable. And, Charter3D is succeeding brilliantly at both. The key now is to spread the word directly to parents and educators as the learning disabilities industry is too financially entrenched in aging, rote memorization techniques to change overnight. But, make no mistake, the battle to save each and every child with a reading disability is worth the fight."
For Allen, the calling to help children with dyslexia stems from deep personal experience. As a child and most of his adult life, Allen's dyslexia was either ignored, mistreated or often misdiagnosed. Unfortunately, the educational system was no help, opting to graduate him from grade to grade without proper notice or assistance. Allen, like all too many dyslexics, learned to become functionally illiterate through memorization – he even managed to graduate college with a 3.0 GPA. This type of existence is fraught with fear, depression and regret – from feeling forced to leave good jobs and relationships before "the secret" is uncovered to ignoring the many gifts reading and writing bring over a lifetime. Once Allen discovered multi-sensory learning of abstract words effectively treated his dyslexia in his early forties, a new, wonderful world literally opened before his eyes. As such, Allen has dedicated his remaining life's work to helping young children with dyslexia not to repeat his many years lost.
Though it may not be popular to say, the fact is most public and private schools systems are failing to properly identify and treat children with dyslexia. Millions of dyslexics are simply falling through the cracks or being pushed through too quickly with phonic memorization designed more for test scores than sustained learning. Many of these children, like Allen until he was 42, will suffer as functionally illiterate unless something is done now. Through pervasive re-education, unwavering parental persistence and the power of the media to empower change, the silent tragedy of childhood dyslexia ends now – with multi-sensory comprehension of just 270 abstract words and symbols. For more in-depth information on how The Learning To Read Program works, please visit Charter3D.com or contact Bill Allen directly at 770-594-1770.
Purchase The Learning to Read Program
View Video of Families' Program Testimonials
View Video of Bill Allen's Personal Dyslexia Story
Purchase and Download Undoda App at iTunes
Read Bill Allen's Dyslexia 911 Blog
Learn More About Charter3D
Charter3D, LLC is a children's reading comprehension company based in Atlanta, GA. The company was founded in 2011 with a worthy mission to improve troubled young children's reading, writing, spelling and abstract thinking abilities through lower-cost treatment options. Copyright (C) 2011 Charter3D, LLC and Undoda, LLC. All Rights Reserved. Apple, the Apple logo, iPhone, iPod and iPad are registered trademarks of Apple Inc. in the U.S. and/or other countries.
###