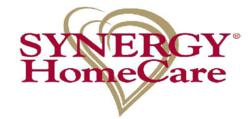 Courtesy Care begins with a telephonic service and can extend to face-to-face caregiving in a Wellness Visit.
Gilbert, Ariz. (PRWEB) June 03, 2011
Home care company, Synergy HomeCare today announced a convenient plan to be available nation-wide. The new telephonic caregiving service entitled "Courtesy Care" is intended for seniors and their family members. Local franchises will also refer to it as an "Emergency Stand-By Service".
Courtesy Care begins with a telephonic service and can extend to face-to-face caregiving in a Wellness Visit.
The services are inclusive of client, family member and caregiver, as it provides direct contact with the client and then sends a recording of the call to the family member on record. The process of Courtesy Care begins with a scheduled phone call to the client. If there is no response, a caregiver visits the client's home to ensure safety. No response at the front door indicates that a family member must be contacted for further direction.
The courtesy care service was developed at the request of families and persons in need who do not require extended care, but would still like the comfort of a compassionate phone call. It is the ideal solution for clients who live far from aging relatives and need a courtesy check-in. It is also cost-effective for families who do not require full or part-time care, or are struggling with tight budgets.
"Communication is key when it comes to senior health and happiness," says Synergy HomeCare representative Kitty Vradenburg. "Most of the time, a caregiver is the only person a senior will speak to throughout the day. Courtesy care is a cost-effective solution for families, and the communication that seniors need for their emotional well being."
Courtesy services occur at the senior's and the family's convenience at a frequency of one to seven times per weeks.
This is not Synergy HomeCare's first foray into senior security. In 2005, it introduced the Vial of Life program, which informs medical personnel of vital health information through a tubs kept in the senior's home refrigerator. In 2009, Synergy HomeCare adopted a complimentary medical alarm system service, allowing the elderly to call for help and obtain emergency response.
About Synergy HomeCare
Synergy HomeCare is a national franchise of non-medical home care dedicated to providing exceptional and affordable service to anyone of any age. Synergy HomeCare caregivers are available 365 days a year, 24 hours a day, to those in need – including seniors, expectant moms, those suffering from sports injuries and debilitating illnesses, and more. Founded in 2002 in Gilbert, Ariz., Synergy HomeCare now has 120 franchises in more than 36 states. For additional information, please visit http://www.synergyhomecare.com.
###