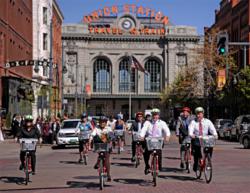 Sage is excited to partner with Denver B-cycle because we believe this is a great opportunity for our downtown Denver employees to stay fit and have a greener commute," - Walter Isenberg
Denver, CO (PRWEB) June 03, 2011
Sage Hospitality announced a partnership with Denver B-cycle to become the first large-sized employer to purchase annual bike sharing memberships for all full-time employees in downtown Denver.
Sage is also becoming the first Denver hospitality company to offer guests discounted access to the bike sharing program this summer.
Sage has pledged to buy annual memberships for each of the approximately 600 people employed full-time at its six downtown Denver hotels and Global Office. The Denver B-cycle partnership is part of the new SageWell health initiative, which encourages Sage associates to make positive decisions about nutrition and fitness and to set personal health goals for a healthier, happier future.
The six participating Sage hotels include The Curtis, a Doubletree Hotel, Courtyard by Marriott Denver Downtown, The JW Marriott Denver at Cherry Creek, Residence Inn by Marriott Denver City Center, The Oxford Hotel and TownePlace Suites by Marriott Denver Downtown,
"Sage is excited to partner with Denver B-cycle because we believe this is a great opportunity for our downtown Denver employees to stay fit and have a greener commute," said Walter Isenberg, President and CEO of Sage Hospitality. "Sage is doing everything it can to help our associates live a healthier, more sustainable lifestyle and Denver B-cycle is a big step in the right direction."
Designed to help Denver residents and visitors increase their daily activity, save money and reduce carbon emissions, Denver B-cycle has 500 B-cycles located at 50 B-cycle stations. Users can check out a B-cycle at one station and check it in at any of the 50 stations throughout the City.
Starting Memorial Day, guests at the six downtown Sage hotels will be able to purchase a discounted 24-hour Denver B-cycle access pass at the front desk, providing an easy and unique way to explore Denver. Additionally, Sage will integrate free B-cycle access passes into promotional campaigns throughout the summer, including the Oxford Hotel's new Spokes & Suds package.
Starting at $240 per night, the Oxford Hotel's Spokes & Suds package includes:

Deluxe Accommodations at LoDo's historic boutique hotel
Microbrew in-room amenity upon arrival
Complimentary overnight Valet Parking
All Day B-Cycle Pass
Picnic Lunch for Two
Luggage Storage
The package is available from May 30, 2011 to Dec. 1, 2011. To book, please phone (800) 228-5838 or visit http://www.theoxfordhotel.com.
For more information on Sage Hospitality, visit http://www.sagehospitality.com.
ABOUT SAGE HOSPITALITY
Founded in 1984, Sage Hospitality has strategically grown into one of the largest privately held hotel management and ownership companies in the nation operating a variety of large, full-service hotels as well as extended stay and select-service properties. Sage Hospitality's comprehensive portfolio includes major international brands such as Marriott, Sheraton, Renaissance, and Westin, and as well as independent boutique hotels. Sage Hospitality has further differentiated with the creation of the Sage Restaurant Group, which has created and is managing 10 unique restaurant concepts including the acclaimed Mercat a la Planxa in Chicago. For more information, please visit http://www.sagehospitality.com
ABOUT DENVER BIKE SHARING
Denver B-cycle, presented by Kaiser Permanente in association with a variety of community sponsors, is owned and operated by Denver Bike Sharing, a Colorado charitable, 501(c)(3) non-profit organization. Denver Bike Sharing exists to promote health, quality of life and preservation of the environment in Denver. Through operating a citywide bike sharing system, Denver Bike Sharing offers residents and visitors an alternative form of public transportation, which is both environmentally friendly and affordable. It complements and integrates into the city's overall transportation system and helps to implement the Greenprint Denver's Climate Action Plan. http://www.denver.bcycle.com
###