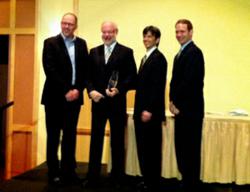 We don't care about what people know. We care about what they can do and actually do with what they know. Our challenge, as effective instructional designers, is to get people to make the leap from knowing to doing—and that's where we often fail.
Orlando, FL (PRWEB) June 03, 2011
The American Society for Training & Development (ASTD) presented Dr. Michael Allen, chairman and CEO of Allen Interactions Inc., with its Distinguished Contribution to Workplace Learning and Performance Award, on May 23, at a ceremony held during the ASTD 2011 International Conference & Exposition in Orlando, Florida. This ASTD award recognizes an individual for an exceptional contribution of sustained impact to the field of workplace learning and performance.
Michael Allen is a recognized leader in the architecture and design of interactive multimedia learning strategies and authoring tools. He has more than 40 years of professional, academic, and corporate experience in the development, sales, and marketing of interactive learning and performance support systems. He is currently chairman and CEO of Allen Interactions.
The intersection of education and technology has long interested Allen, who first began a distinguished academic career in the field at The Ohio State University, becoming a multi-term president of the Association for the Development of Computer-based Instructional Systems and Editor Emeritus of its Journal.
Allen transitioned to the corporate world as director of Advanced Educational Systems R&D within Control Data Corporation's PLATO project. Intrigued by the power of PLATO hardware and software, Allen said, "The system provided an unprecedented opportunity to envision and shape the future of educational technology." Ever since, he's been trying to help the rest of us realize the promise of that technology.
After 13 years at CDC, Allen founded Authorware in 1984. Based on his extensive research on human learning and creative problem-solving, he led the design of Authorware products from feature specifications to human interface. He carried the effort on personal financing for some time, then secured financial marketing support from Apple Computer, among other investors. His product was a blockbuster, winning the Best Designed Product Award/Software at COMTEC in 1987, and has garnered many other top honors. Version 1.0 of the e-learning authoring product line began shipping in January 1988.
In 1992, Authorware merged with MacroMind/ParaComp to create Macromedia, which was later acquired by Adobe. Allen immediately founded MediaPros, a spinoff of Authorware's professional services division, which was acquired by Lifetouch Learning a year later. After a year as executive vice president at Lifetouch, he founded Allen Interactions in 1993, focusing on innovation in the multimedia industry. Allen Interactions designs, develops, and implements highly interactive educational simulations for the world's largest corporations and is about to bring forth another wave of authoring technology, ZebraZapps, which Allen calls "Authorware on steroids."
Allen is a devoted believer in the power of e-learning to change human behavior: "We don't care about what people know. We care about what they can do and actually do with what they know. Our challenge, as effective instructional designers, is to get people to make the leap from knowing to doing—and that's where we often fail." Allen maintains that, to be effective, e-learning must be meaningful, memorable, and motivational.
Of his many books, Allen is proudest of Michael Allen's Guide to e-Learning, published in 2002, and of his 2008 e-Learning Annual, for which he interviewed some of the earliest, most renowned leaders in the field. He now provides high-level consulting for multimedia design and production groups looking to take greater advantage of interactive technologies. "We have the potential to make the optimal experience for each learner at the time of need," he said. "That potential exists within the technology; using the technology well is critical."
About ASTD
ASTD is the world's largest professional association dedicated to the training and development field. In more than 100 countries, ASTD's members work in organizations of all sizes, in the private and public sectors, as independent consultants, and as suppliers. Members connect locally in 125 U.S. chapters and with 20 international partners. ASTD started in 1943 and in recent years has widened the profession's focus to align learning and performance to organizational results, and is a sought-after voice on critical public policy issues. For more information, visit http://www.astd.org.
About Allen Interactions
Since 1993, Allen Interactions has delivered custom e-learning and blended solutions that serve employees, partners and customers of many of the world's leading companies including Apple, Essilor, HSBC, and Motorola. Through studios located in the Midwest and East and West Coasts, the Company provides high-level expertise in instructional design, technical, creative, process, project management, and writing integrated together for sustained learning and real business results.
Allen Interactions will launch a revolutionary authoring system, ZebraZapps, in 2011, allowing developers and non-programmers to create rich interactive media applications easily and quickly, as well as share, publish, and sell their inventions. Technology designed and built by Allen led to the formation of Macromedia and revolutionized multimedia software development. With ZebraZapps, Allen is set to disrupt the industry once again.
To learn more about Allen Interactions visit: alleninteractions.com.
Allen Interactions
Follow Us on Twitter
"Like" Us on Facebook
Connect with Us on LinkedIn
ZebraZapps
Follow Us on Twitter
"Like" Us on Facebook
###