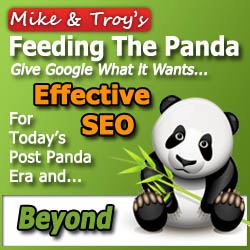 Feeding the Panda is one product specifically designed to help web masters optimize for the post Panda age
Bandon, OR (PRWEB) June 04, 2011
Mike and Troy of ArticleSubmissionReview.com have just released their highly anticipated Feeding The Panda book in order to help today's webmaster and SEO specialist in the post Panda upgrade world. With so many web masters relying on Google, the web's largest search engine, for their traffic today it is only natural that changes in Google's algorithm would send a huge portion of the web's site owners into a tailspin. That is why it is more important than ever to stay current on your SEO requirements According to search engine analysts the Google Panda Update, the latest among Google's algorithm changes, affected a substantial segment of the web's sites. This time, however, Google was quite vocal about exactly why the changes were being made. The California based web giant threw down the gauntlet against spammers, saying that it wanted its users to have a higher quality experience where they would get search results relevant to the terms they input and of serious quality, too. This meant that the days of trying to trick the search engines for traffic would be coming to an end. Now, Google clearly states that they have a very sharp idea of what quality sites are all about and they will work their hardest to filter out those sites that do not meet the quality guidelines. Of course, dedicated site owners are not interested in seeing sharp drops in traffic so they have worked to figure out just what they could do to see results. Until recently, the arena of SEO was foggy when it came to how to tackle optimizing pages for the latest update, but that is starting to change.
Feeding the Panda is one product specifically designed to help web masters optimize for the post Panda age. Quality sites and relevant content are great buzz terms, but discovering what this means in terms of real world results is Mike and Troy, the creators of Feeding the Panda, have set out to help site owners do. By clearing up the fog surrounding SEO for 2011 and beyond, Feeding the Panda shows web masters exactly how to approach SEO to get an increase in organic traffic while others are seeing drops in traffic by using outdated methods. With their easy to read and straight to the point style, Mike and Troy clear up how the Google Panda changes affect sites and what web masters can do to effectively treat visitors and Google alike to high quality sites that do what they are intended to do: build an audience and bring in revenue. Already, site owners who have used the product have been able to educate themselves and see better results for their sites. In a time of real confusion, it appears that if the Panda can't be beaten then it might indeed be best to feed it what it wants.
Those interested in learning more about Mike and Troy's Feeding the Panda product should visit http://FeedingThePanda.com where they can learn all the details about this incredible digital product. The product comes backed with a 100% money back guarantee and testimonials are available to show what all it has done for those who have put it to use so far to help their sites adjust to modern search engine demands.
###