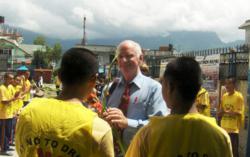 Los Angeles, CA (PRWEB) June 03, 2011
On Thursday, June 2, 2011, the Global Commission on Drug Policy released a groundbreaking statement of recommendations on how the world's governments should reshape their anti-drug policies. The old pattern of a 'War on Drugs' has failed completely, they state. New models including decriminalization of drugs, especially cannabis (marijuana), and experimentation with treatment models that employ drugs in the treatment of addiction are supported by the Commission.
Clark Carr, for 16 years the President of Narconon International, an international non-profit network of 150 centers in 50 countries delivering drug and alcohol rehabilitation and drug education services, spoke out in agreement with this call for change. "What the commission has done right is to challenge all governments to break out of their emphasis on criminalization," he stated. "The criminalization of drug abuse, from the farmers to the consumers, has led to millions of non-violent offenders being jailed, sometimes for decades. What they have done right is to call for greater regard for human rights and public health in relation to drug abuse and addiction. But what is unacceptable is their support of programs touting themselves as 'drug recovery' programs when what they do is dispense addictive drugs."
Mr. Carr referred to the portion of the report that recommends the use of maintenance drugs buprenorphine and methadone and 'heroin-assisted' treatment (HAT) programs such as those in Europe and Canada. Participants in HAT programs are provided with pharmaceutical grade heroin as a last-ditch effort to allay some of the damage done by heroin addiction, namely, a lifestyle of criminal activity to obtain the funds necessary to supply one's heroin habit because of the illegality of heroin possession and use.
"When governments and social agencies accept the basic premise that addiction is an incurable brain disease, they can be hoodwinked into settling for half measures, such as harm reduction's clean needles and heroin dispensaries," Mr. Carr continued. "This may or may not get these addicts off illegal drugs, but, face it, with so-called 'maintenance programs' and 'heroin-assisted' treatment programs, we still have a world of addicts on drugs."
"Further," he said, "both types of treatment make the assumption that an addict cannot achieve the goal of getting and staying clean and sober. This assumption is completely false. I know from my tenure as President of Narconon International that addiction is NOT a disease of the brain. It is a health problem, yes, but more a social and community problem. Most profoundly, personal addiction is a manifestation of insufficient life skills."
Mr. Carr pointed out that Narconon's forty-plus years of delivery of drug and alcohol rehabilitation services has proven that addicts of all types, no matter the severity of their addiction, are able to fully recover without substitute drugs or medication for mental disorders some people think accompany addiction. The Narconon drug rehabilitation program and many others around the world use nutrition to enable individuals to regain physical health and also life skills training so they can confront and deal with the difficulties that may have lead them into substance abuse. Mr. Carr added, "Thousands of our graduates are living clean and sober lives for years or even decades after they have completed the Narconon program, tens of thousands. This is proof that addiction is in no way an incurable disease."
Mr. Carr summarized his recommendations by saying, "The only humane action is to provide those who are addicted to illegal substances with a safe, effective route to complete drug-free recovery. And to provide children and young adults not yet hooked on drugs with complete, honest, effective drug education that enables them to make the life-saving choice to stay clean and sober. Until those services are fully in place, with broad, unswerving government support, we fail our own citizens if we merely reduce the protective measures currently offered by drug interdiction."
"The War on Drugs may be a failed policy," Carr said, "but worse is to accept the hypothesis that addiction is an incurable disease and not demand effective drug rehabilitation."
For more information on the Narconon program model, please visit http://www.narconon.org or call 800-775-8750.
# # #