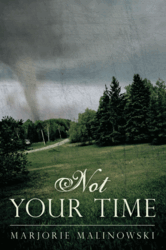 Didsbury, Alberta (PRWEB) June 07, 2011
Through the years, the traditional family unit has evolved into a diverse melting pot that takes in all sorts of shapes and configurations, but the core feelings of love and devotion remain the same. This is the underlying theme of Not Your Time, a new fictional work by author Marjorie Malinowski (published by WestBow Press).
Malinowski's book opens by introducing Ann, an older woman just awakening from a near-death experience during open-heart surgery. As she fades in and out of consciousness in the aftermath of her operation, Ann revisits the most significant periods of her life through a series of flashbacks — the defining event being the deaths of two close friends from injuries sustained during a tornado, and Ann's subsequent decision to adopt the couple's two young children. Ann's drug-induced dream take her through happy memories of her adopted son's and daughter's childhoods and into their present-day lives as successful adults.
Ann recovers and is eventually released from the hospital, but realizes her time on earth is limited. As she sets about preparing her beloved husband of 50 years and her children to carry on without her, she finds strength and comfort in her own faith as she awaits her "time".
Malinowski began writing Not Your Time based on a dream she had one night while working on a project in Europe. She wrote sporadically as her time allowed and, at the insistence of her family, she finished the book some months later. Much like Ann, the main character in her novel, Malinowski admits she relies heavily on her own belief system to carry her through tough times.
"I believe in angels, and my faith provides me with comfort that there is a place waiting for each of us when we die," she explains.
About the Author
A native Canadian, Marjorie Malinowski, lives with her husband in the small town of Didsbury, near Calgary in the province of Alberta. As President and CEO of Global Emission Solutions Inc., she writes scientific protocols and works with green companies and businesses throughout the world. A mother of three, Malinowski enjoys cooking, sewing, organizing family photos and spending time with her grandchildren. She is currently working on a second book, titled Pennies from Heaven.
WestBow Press is a strategic self-publishing alliance of Thomas Nelson, the world's premier Christian publisher, and Author Solutions, Inc. (ASI)—the world leader in the fastest-growing segment of publishing. For more information, visit http://www.westbowpress.com.
###