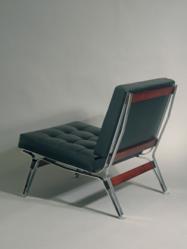 Vienna, Austria (PRWEB) June 05, 2011
AUCTIONATA, the world's first online global auction house, announces its inaugural auction event: 20th Century Design: Rare Furniture and Lighting on June 16, 2011 at 11am (EST), with over 300 unique and collectible pieces by designers such as Ico Parisi, Poul Kjaerholm, Charles and Ray Eames, Alvar Aalto, and Eero Saarinen. The auction features 18 world renowned dealers including Original in Berlin, 360volt, Zeitlos, Lampedo, and Goldstein & Co.
The preview for this groundbreaking event begins on June 2 at
http://www.auctionata.com/design
To look at all galleries involved, please go to
http://www.auctionata.com/design/sellers
What? AUCTIONATA is the first international online auction platform in which "auctionistas" can participate in a real-time auction, interacting with the auctioneer, sellers, and other bidders in a virtual "auction room".
Why buy with AUCTIONATA? The advent of highly-popular reality-based shows such as "Auction Kings" and "Auction Hunters," highlights that the auction industry is booming and auctions are a great opportunity to buy rare items including jewels, watches, wine, and antiques. Unbounded by geographical boundaries, AUCTIONATA offers members the opportunity to purchase exquisite items from all over the world and allows buyers to see exactly where their purchase originates through their highly-curated "Verified Dealer" network. AUCTIONATA also provides the opportunity to preview the items for 14 days prior the auction and directly ask the seller any questions. Unlike other auction houses which average buyers' premiums of 18-25%, AUCTIONATA charges only a 5% buyers' premium assuring lower average prices.
Following the inaugural 20th Century Design auction, AUCTIONATA will launch auctions in dozens of categories including Vintage Watches, Rare Whiskies, Luxury Travel Packages, Haute Couture, Autographs, and Fine Jewelry to name a few.
###