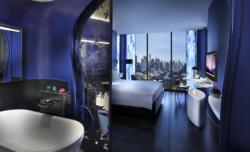 Bangkok (PRWEB) June 04, 2011
Sofitel So Bangkok, scheduled to open by early 2012, will be Asia's first hotel to offer a fully connected lifestyle, with complete Apple-based digital solutions to what guests want to know, see, hear and do for leisure or work. From hotel service directory to the most comprehensive in-room entertainment system available today, it's literally all at one's fingertips.
Linking up with DirectStreams, one of the world's top software solutions providers, and using leading-edge Apple Mac mini and iPad, Sofitel So Bangkok provides completely integrated connectivity that is custom-designed for a hotel environment to meet guests' lifestyle expectations in the digital age.
All of the hotel's 238 rooms will be technologically equipped with an Apple Mac mini computer, together with high-definition 40" LCD TV, wireless keyboard, trackpad, free high-speed Internet access, and a full range of Office software. Additionally, guests staying in any of the hotel's suites will also have the complimentary use of an Apple iPad.
With the ultimate in integrated technology, each Mac mini will function as a multimedia centre, giving guests access to digital TV and radio channels, movies and music library, DVD and CD player, as well as the ability to play each personal iPod, iPhone, and iPad.
For work purposes, the Mac mini enables guests to load files via a USB port, work on them in the normal way, and save them to a memory stick safe in the knowledge that every time the Mac mini is shut down DirectStreams software will clean away any new information on the computer and restore it to its original state at check-in/check-out.
Other applications in this groundbreaking system range from the prosaic, such as browsing the hotel directory and in-room service menu, to the sublime with webcam screening of the Bangkok skyline and panoramic views over Lumpini Park.
Beyond guestrooms, the technology platform extends across the entire property to provide a whole range of multimedia applications in public areas, business centre, meeting rooms, and ballroom via 11 LCD digital signage.
Commenting on Sofitel So Bangkok's amazing digital world hotel general manager Mr. Gilles Cretallaz said, "Today, the personal computer is integral to an evolving lifestyle, the digital lifestyle, and people are coming to expect that what is central to their lives at home and in the office should also be available when they travel. This is what we are providing, meeting needs in a way that guests are now coming to expect.
"It's all part of what the Sofitel So brand represents – the recognition of a new generation of urban hotels that are technologically innovative and design oriented. It is also a very 'green' concept as with more on screen, the less paper used and the less waste."
Located on the corner of Rama IV and Sathorn roads, with a commanding site overlooking Lumpini Park and skycrapers, the 30-storey Sofitel So Bangkok has an interior design created around the Five Elements (Water, Earth, Wood, Metal and Fire) which, combined, frame and form a refuge of sense and balance energy at the heart of vibrant Bangkok. Indeed, here is a truly innovative hotel that promises visitors and locals alike with a new focal point, a place to stay, eat, meet and be entertained in stylish fashion and totally connected.
Sofitel So, intense living
Created by Sofitel as a label, Sofitel So personifies its designer hotels vision, the latest addresses, resolutely contemporary. Blending design and pleasure, style and soul, each Sofitel So address aims to express the essence of the destination. A concept that combines Sofitel art de vivre and personal style entrusted to an international name from the world of fashion, the arts or design. Conceived as a story, each address is a new chapter. The book opens with Sofitel So Mauritius and the narrative continues with Sofitel So Bangkok, Sofitel So Mumbai…
Discover Sofitel on sofitel.com
Discover A|Club at Sofitel, the new worldwide Accor loyalty program on a-club.com
###