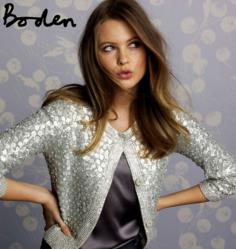 all online marketing channels are being ramped up
Pittston, PA (PRWEB) June 06, 2011
An already established fashion outlet with over 900,000 US customers, Boden is investing in warehouse and staff expansion to support ambitious growth plans. In January 2011 Boden completed work to double the size of its facility in Pittston, Pennsylvania. Boosting available space has enabled the business to keep more of its stock in the United States and give customers "a much improved service," said Boden's Managing Director Julian Granville. Mr Granville pointed at the increased head count at the newly expanded facility and that Pittston offers "a first-class work force", which has been key.
Back in London, the head office team focusing on customer acquisition has also restructured and expanded to cater for growth. The latest recruit, International Online Marketing Manager Esther Wrigley, has come on board to drive Boden's customer acquisition online. "With over 85% of orders coming in from our website, all online marketing channels are being ramped up", says Ms Wrigley. She sights "lead generation, display advertising and demographic profiling" as some of the most high impact new tools to ensure profitable growth.
Despite Boden acquiring over 150,000 new customers annually since moving into the US market, the apparel sector is predicted to face increasingly challenging conditions in 2011. Higher cotton prices and rising labour costs overseas may force clothing retailers to raise prices by between 5 and 20 per cent in the second half of this year alone. Miss Wrigley remains optimistic, however, "with our improved customer service and marketing operations in the US, we are confident we can respond to the forthcoming challenge."
About JP Boden & Co
Boden sells clothing for men, women, teens and children with a British twist through its website and catalogs. The company is turning over £200 million a year and employing 800 staff. More than 200 womenswear styles are on offer, as well as extensive ranges of menswear, baby, boys and girls clothing. Boden launched operations in America in 2002, Germany in 2007 and Austria in September 2009.
###