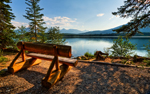 Luxury house sales in Canada have surged in comparison to the same period in 2010
(PRWEB UK) 7 June 2011
While the majority of regions reported that locals were the primary drivers of demand for luxury product, foreign investment has also augmented sales activity in several Canadian markets. A number of factors position Canada as an attractive option for international investors, foremost that its real estate remains a bargain by international standards, given its ranking for quality of life, political and economic stability and the strength of its property laws. To those from abroad, it's the perfect mix.
The financial status and number of millionaires is rising once again. While estimates vary, recent studies have concluded that the high net worth population in Canada and/or abroad is trending upward and will experience considerable expansion moving forward. Of particular interest, residential real estate holdings have increased among high net worth individuals, as they express a clear preference for tangible assets. This trend is expected to continue, and serve to boost high-end residential real estate in months ahead, as the move to diversify assets continues in 2011.
As Canada's millionaire club swells in size, inventory will play an increasing role in the future, particularly in Canada's gateway centres - ideal news for luxury lifestyle resort 'Forest Lakes Country Club' located in the maritime province of Nova Scotia.
Managing Director of Landcorp International, Ailse MacFarlane, comments 'Forest Lakes will be the premier resort in Atlantic Canada, quite unlike any other in the region. It will have a wide range of residential properties to suit all budgets, but will stand out in terms of quality and excellence and the amenities on offer.'
Set amidst a beautiful 1000+ acre site with extensive natural forests, Forest Lakes will offer a magical blend of idyllic natural surroundings combined with the luxury of a premier resort community. It will also boast a golf course designed by world renowned Nicklaus Design, the resort will be an attraction for locals and tourists in Nova Scotia alike.
MacFarlane continues 'The RE/MAX report is hugely encouraging both for the development company, Terra Firma, and the international clients who have invested in the early stages of the development. A strong end user market coupled with the resilient Canadian economy and banking system means that a development such as Forest Lakes will have a bright future'.
Landcorp International is currently introducing investors to the opportunity to invest in Forest Lakes Country Club from £20,000 with predicted returns by the Developer of 100%+ once planning permission is achieved. For a comprehensive investment brochure and a complimentary guide to investing in Canada, contact Landcorp: UK: 0871 218 3002, International: +34 952 868 250 or visit their website at http://www.landcorpinternational.com.
Editor's notes;
Landcorp International was established in 2007 to market Unique Investment Opportunities worldwide. They specialise in introducing well-planned, high potential 'early stage' global property development opportunities to private investors.
All investments are managed by a Licensed UK based Trustee governed by UK Law with all funds held in a protected UK Escrow Account in the investors name.
###